Jewish World Review June 2, 2005 / 24 Iyar, 5765
Hal Holbrook to star in 'W. MARK FELT TONIGHT!'
By Andy Borowitz
One-man show to be based on life of Deep Throat
http://www.JewishWorldReview.com | Actor Hal Holbrook, who for years has toured the country with his acclaimed one-man show "Mark Twain Tonight!," said today that he would abandon that signature vehicle in order to star in a new theatrical event based on the life of Deep Throat entitled "W. Mark Felt Tonight!"

Dressed in the trademark white suit he has worn for years while impersonating Twain, Mr. Holbrook told the audience at the Music Tent Dinner Theater in Dayton, Ohio that the performance of "Mark Twain Tonight!" they had just seen would be his last.

"For the last forty-odd years, I have loved playing Mark Twain," Mr. Holbrook told the audience. "But in terms of a role I can really sink my teeth into, there's no character more fascinating than W. Mark Felt."

Mr. Holbrook, who played Deep Throat in the 1976 film "All the President's Men," said that his film appearance had given him "a head start" in creating the character of W. Mark Felt: "I played W. Mark Felt before I even knew who W. Mark Felt was."

But even as Mr. Holbrook announced a thirty-city tour of his new one-man show, Buddy Schlantz, a veteran talent agent and observer of the entertainment scene, expressed doubt that "W. Mark Felt Tonight!" would make for an evening of spellbinding theater.

"To be candid, I don't see how a guy who kept his piehole shut for thirty years is going to put fannies in those seats," Mr. Schlantz said.

Elsewhere, hotel heiress Paris Hilton and shipping heir Paris Latsis announced plans to breed a race of vapid, spoiled idiots.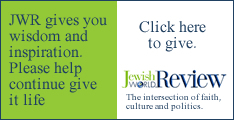 Every weekday JewishWorldReview.com publishes what many in in the media and Washington consider "must-reading". Sign up for the daily JWR update. It's free. Just click here.

Comment by clicking here.
JWR Contributor Andy Borowitz, the first-ever recipient of the National Press Club's Award for Humor, is a former president of the Harvard Lampoon,and a regular humor columnist for Newsweek.com, The New Yorker, The New York Times and TV Guide. Recognized by Esquire magazine as one of the most powerful producers in television, he was the creator and producer of the hit TV series The Fresh Prince of Bel-Air and producer of the Oscar-nominated film Pleasantville.

© 2005, Andy Borowitz