Jewish World Review May 26, 2009 / 3 Sivan 5769
What a Member of Parliament Deserves
By Anne Applebaum


http://www.JewishWorldReview.com | LONDON — Drip, drip, drip: The neverending stream of revelations has been compared by one British member of Parliament to "torture" — waterboarding? — and rightly so. One day, it emerges that a senior MP has charged British taxpayers £2,000 (about $3,200 as of yesterday) for the cleaning of the moat on his 13th-century estate. A few days later, another MP is revealed to have charged 1,645 pounds for a floating duck house. Almost every day for the past two weeks, in fact, the British press has published accounts of the ginger crinkle cookies, stainless steel dog bowls, swimming pool heaters, spousal iPhones and the trouser press (119 pounds) that British legislators charged to the British government.

Which isn't bad compared with the MP who submitted a claim for interest payments on a mortgage he had already repaid, or those who kept swapping properties in order to avoid taxes. Outrage is genuine. The Daily Telegraph — the newspaper that obtained the expense receipts (and isn't saying how; most assume the paper bought them) is calling for early elections. So is just about everybody else, except, naturally, the ruling Labor Party.

There is a degree of unfairness about this scandal. With the exception of a handful of real cheaters and tax-dodgers, most politicians were operating within a legal system. According to parliamentary rules, they were allowed to claim for the expenses of maintaining a second home, either in London or in their districts. But only a degree: After all, the reimbursement system was set up and run by the politicians themselves, under the aegis of soon-to-be-retired, yet apparently unrepentant Michael Martin, the first speaker of the House of Commons to be forced out of office since 1695.

Besides, while some MPs charged for the leaky pipes under their tennis courts, others kept their expenses to a bare minimum. And in that fact lies an interesting psychological question: Why did members of the world's oldest legislative body feel they were entitled to ask the taxpayers to pay for their scatter cushions and their swimming pool maintenance? Though some retained a sense of propriety, most did not. Why not? The explanation seems to me to lie in the declining prestige of the House of Commons and the rise of the outsize-bonus culture in the London financial district down the road.

Both have their origins in the 1980s, when a combination of Thatcherite reforms, the adoption of English as the universal business language, and geography — Britain is in a time zone about halfway between New York and Tokyo — made London the financial capital of Europe. Throughout the decade, everyone in Parliament watched their friends from college get not just rich but very, very rich, while their own salaries remained stagnant. As a result, British MPs came down with a bad case of what columnist David Brooks has called "Status- Income Disequilibrium," a disease whose sufferers hold badly paying but prestigious jobs, positions that require them to "lunch on an expense account at The Palm, but dine at home on macaroni" — (or, in British terms, "go home every night to beans on toast").

The problem worsened as the importance of Parliament declined. With the rise of 24-hour television, the importance of substantive debate declined, too. MPs were not only relatively poor but also relatively insignificant. They earned less, and they mattered less, not merely less than bankers but less than journalists and less than their political predecessors. This parliamentary crisis of confidence seemed to climax in the "cash-for-questions" scandal in 1994, when a few conservative MPs were shown to have taken money — in cash, in brown paper bags — from businessmen who wanted them to make official inquiries on their behalf.

Back then, a solution seemed imminent: Crusading against parliamentary "sleaze," Tony Blair's Labor Party cruised to victory in 1997, ending 18 years of Conservative rule. This time after 12 years of Labor rule, there are no white knights. All three major British political parties — Conservative, Labor, Liberal Democrat — have been damaged by the expenses scandal, which is unfolding just as Britain enters a deep recession (itself partly the result of the outsize bonus culture). As a result, the next elections may well bring to into office a gaggle of political independents or representatives of the xenophobic British National Party.

Or they may simply reveal new depths of voter apathy. If the declining prestige of Parliament is a part of the source of this scandal, a far more dramatic decline in the prestige of Parliament will be the result. That feeling, so palpable in London — and in New York, and in Washington — that "I'm clever, I work hard, so I deserve to be richer, even at someone else's expense" helped bring down Lehman Brothers, helped create the Madoff pyramid and has now damaged the ancient House of Commons. Which venerable institution is going to fall next?
Every weekday JewishWorldReview.com publishes what many in the media and Washington consider "must-reading". Sign up for the daily JWR update. It's free. Just click here.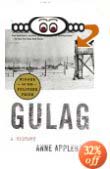 APPLEBAUM'S LATEST
Gulag: A History
Nearly 30 million prisoners passed through the Soviet Union's labor camps in their more than 60 years of operation. This remarkable volume, the first fully documented history of the gulag, describes how, largely under Stalin's watch, a regulated, centralized system of prison labor-unprecedented in scope-gradually arose out of the chaos of the Russian Revolution. Fueled by waves of capricious arrests, this prison labor came to underpin the Soviet economy. JWR's Applebaum, a former Warsaw correspondent for the Economist and a regular contributor to the Wall Street Journal and the Washington Post, draws on newly accessible Soviet archives as well as scores of camp memoirs and interviews with survivors to trace the gulag's origins and expansion Sales help fund JWR.
Comment on JWR contributor Anne Applebaum's column by clicking here.

Previously:
04/22/09: The Twitter Revolution That Wasn't
04/14/09: Do we really need interactive exhibits to bring Jefferson to life?
04/07/09: No Nukes? No Thanks: Obama's odd obsession with universal nuclear disarmament
03/31/09: What's Loud, Unnecessary, and Costs $75 Million?
03/23/09: Ctrl-Alt-Diplomacy
03/03/09: European Disunion
02/24/09: Who cares what Hillary Clinton says to China's leaders about human rights?
02/17/09: Witless protection
02/10/09: Our Ticket Out of Afghanistan
01/27/09:Why some foreigners can't believe Obama won the presidency fair and square
01/20/09: A Flight Test for All of Us
01/14/09: Europe's New Cold War
01/07/09: Pointless Peace Proposals
12/30/08: The magnificent rhetorical legacy of the Founding Fathers
12/23/08: Do riots in Athens portend demonstrations in Paris and Cincinnati?
12/16/08: Breach of Trust: Bernard Madoff's massive fraud will cripple American capitalism
12/09/08: In praise of charismatic politicians
12/03/08: Moscow's Empire of Dust
11/20/08: Getting Past Mythmaking In Georgia
11/12/08: In Praise of Political Rock Stars
10/03/08: Election Day myths you must resist
09/30/08: Not just a metaphor: Lehman Brothers was economic's 9/11
09/04/08: Class of '64
08/28/08: Did Hillary really help the Barack cause?
08/27/08: 'Show of Power,' Indeed
08/19/08: What Is Russia Afraid Of?
08/13/08: When China Starved
08/11/08: Two of the world's rising powers are strutting their stuff
08/05/08: How Alexander Solzhenitsyn's The Gulag Archipelago changed the world
07/29/08:'The Hour of Europe' Tolls Again … But are European politicians up to the task?
07/15/08: Why Does Obama Want To Campaign in Berlin?
07/01/08: Citizen Athletes: How did a guy who can't speak Polish end up scoring Poland's only goal of Euro 2008?
06/24/08: Why do we expect presidential candidates to be kind?
06/17/08: Pity the Poor Eurocrats
06/12/08: Is the World Ready for a Black American President?
05/28/08: The Busiest Generation: America seems to value its children's status and achievements over their happiness
05/20/08: Leave Hitler Out of It: The craze for injecting the Nazis into political debate must end
05/13/08: A Drastic Remedy: The case for intervention in Burma
05/07/08: A Warning Shot From Moscow?
04/23/08: Radio to stay tuned to
04/17/08: China learns the price of a few weeks of global attention
04/01/08: Head scarves are potent political symbols
03/26/08: The Olympics are the perfect place for a protest
03/19/08: Could Tibet bring down modern China?
03/12/08: Have political autobiographies made us more susceptible to fake memoirs?
03/05/08: Why does Russia bother to hold elections?
02/20/08: Kosovo is a textbook example of the law of unintended consequences
02/06/08: A Craven Canterbury Tale
02/06/08: French prez' whirlwind romance reminds voters of his political recklessness

© 2009, Anne Applebaum. By permission of the author