Jewish World Review May 17, 2006 / 19 Iyar, 5766
Great Expectations: Faith, Hope and the Battle of Ideas
By Brent Budowsky
Time for believers worldwide to unite through technology in an effort to reclaim the goodness of humanity

http://www.JewishWorldReview.com | G.K.Chesterton could have been writing about our world today when he stated: "we are all in the same boat on a stormy sea, and owe each other a terrible loyalty".

Yet, threatened by enemies so hideous and evil they murder children in houses of worship, and decapitate the heads of the innocent, we remain dangerously divided against each other and strangely defensive in what is truly a world- wide battle of ideas.

Any of us, today, can go to the website of the World War II Memorial and enter the names of our forebears who served in the great war of the greatest generation, as I entered the name of my father, who served with bravery as an Army medic in the Battle of Bastogne, and was wounded himself while tending the wounds of his band of brothers.

We can still walk the grounds of the Memorial in Washington, and while the hourglass now runs out of sand, we can still shake the hands of the surviving heroes, in the twilight of their lives, who saved freedom from fascism. Few moments are more moving, than watching as many as four generations of a family, together possibly for the last time, reliving those days and reminding us that freedom and faith are timeless, must be cherished and defended, and that for those to whom much is given, much is asked.

Pope John Paul II,in my estimation one of the greatest leaders who ever walked the earth, spoke often about the common values and aspirations of the diverse faiths of the world. He took particular joy in uplifting the spirits and vision of young people, and was creative in communicating his message through old and new media alike.

Throughout American history, at key moments our leaders have been able to compete in our domestic debates but rise to more uplifting heights reflecting the great expectations of higher values.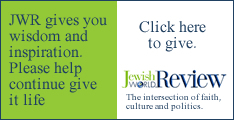 Franklin Roosevelt lifted the spirits of the nation during the Depression saying we have nothing to fear but fear itself, and when freedom's heroes were landing at Normandy he spoke to them and the conscience of the world with a broadcast prayer. John Kennedy spoke brilliantly of the battle of ideas and reminded us that "Here on earth, G-d's work must truly be our own". Ronald Reagan spoke of America as a city on a hill, and his abiding faith fueled his aspiration and achievement of a world less threatened by nuclear annihilation.

We live in an age that followed the triumph over fascism, communism and totalitarianism that has still not ended the reality of genocide; an age where freedom and democracy flourish but hunger, hopelessness and futility exist far too often; an age where communications bring people and nations increasingly close together, while misunderstanding and hatreds persist too often, and too many children grow up weighing the scales of hope and faith, against the temptation of the murderous death of the suicide bomber.

The left, right and center agree on very little, but often agree on this: far too often the voices of competing extremes of anger and rage, the "newsworthy" horrors, deepest hates and bloody results overwhelm, in public attention, the higher truths and greater aspirations of the "silent majority" expressed by the leaders of the great faiths of the world.

So, I offer this idea: Why not a gathering of leaders of the great religions, to pray, to teach, to come together in a spirit of understanding?

To inspire us, educate us, lift our sights, our spirits and our aspirations for ourselves and our world? To remind us, of the great truths they share; and to appeal to the young in life and the young at heart and show us the light of faith, hope and inspiration as the answer to murder, hate and misunderstanding.

It is true: today in some dark corners, there are those who would seek to annihilate our cities with nuclear terror; to threaten Israel or some other hated target with destruction; to destroy enemies in ethnic, racial or religious wars of those filled with hate. It is also true: in other corners there are young people with nobler dreams and prayers, to coexist hopefully with love from faith, or at least with mutual respect based on the shared hope of a better life and a world where they are free to reach the greatest heights of their dreams.

And, it is true, that one of our most powerful answers to the demented crimes of 9-11, and those recruiting to attempt the next 9-11; are not only military, intelligence, and police actions which are part of the solution, but a louder, stronger, clearer, more universal appeal to the better angels of our nature, based on the great faiths of the world, which have inspired the noblest aspirations for time immemorial.

How it would remind us, inspire us and teach us to see the leaders of the faiths convening together; speaking of understanding and hope to young people everywhere; broadcast to the entire world; allowing some inter-action and communication through the internet between the clergy and "the flock"; having questions asked and answered that would lift our spirits and create new levels of understanding, tolerance and cooperation.

Why not, if such a gathering of world religious leaders is ever convened, open its door, in a Davos-like setting, to the leaders of business and media, to athletes and actors and authors of diverse faiths, leaving their differences at the door, to offer suggestions of how they can better help our country and world meet the great challenges of our times?

Why not, no matter how the sorry state of our national politics concludes with the next election, dedicate ourselves, beginning the hour the voting ends, to seek a Lincolnesque reconciliation with each other, a halt to the politics of vindictiveness and division, and a reaching out for a new national unity of shared purpose, values and patriotism?

While offered with modesty, these are not modest proposals, but they are in the tradition of the common values of the great faiths, the common denominators of the great moments in our history, and the common asprations of hearts and minds everywhere for a world of hope over hate and dignity over injustice.

Why not try to dream great dreams again, think big thoughts again, share great expectations again based on the truism that we are, indeed, in the same boat on a stormy sea and do, indeed, owe each other a terrible loyalty.
Every weekday JewishWorldReview.com publishes what many in Washington and the media consider "must-reading". Sign up for the daily JWR update. It's free. Just click here.
JWR contributor Brent Budowsky is a former aide to Sen. Lloyd Bentsen and the House Democratic Leadership with business interests since 1990, including entertainment and corporate public affairs. To comment, please click here.
© 2006, Brent Budowsky