Jewish World Review May 30, 2006 /3 Sivan, 5766
bin Laden furious at 'American Idol' for trouncing him in ratings
By Andy Borowitz
Orders global jihad against popular songfest
http://www.JewishWorldReview.com | Just days after releasing a new terror tape, al Qaeda mastermind Osama bin Laden is furious that the ratings for his tape were dwarfed by those of the "American Idol" finale and has declared an all-out "global jihad" against the popular song contest.

Millions of viewers worldwide watched the "American Idol" finale Wednesday night, drawing the ire of Mr. bin Laden, who had hoped that his latest terror tape would be the highest-rated TV show of the week.

But while "Idol" fans around the globe watched Taylor Hicks defeat Katharine McPhee for the top songfest honors, Mr. bin Laden was angrily seething in his cave, plotting revenge, sources close to the madman say.

"When Taylor started singing his number, Osama took off a sandal and threw it at the TV screen," one close associate of the terror chief said. "He was like, 'I can't believe people are watching this crap instead of my tapes.'"

In yet another terror tape broadcast today on the Arabic-language network al-Jazeera, Mr. bin Laden vowed revenge against his latest nemeses, thundering, "I will not rest until I have put an end to these American idols and their American idolaters."

While Mr. bin Laden's associates publicly support his latest jihid, one aide who spoke on condition of anonymity said that the terror chief's sagging ratings may be partially his own fault: "We suggested he introduce a singing segment on his terror tapes, but he balked."

Elsewhere, NASA said that Voyager II has determined where the solar system ends but has yet to determine why anyone needed to know this.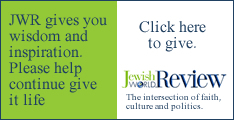 Every weekday JewishWorldReview.com publishes what many in in the media and Washington consider "must-reading". Sign up for the daily JWR update. It's free. Just click here.

Comment by clicking here.
JWR Contributor Andy Borowitz, the first-ever recipient of the National Press Club's Award for Humor, is a former president of the Harvard Lampoon,and a regular humor columnist for Newsweek.com, The New Yorker, The New York Times and TV Guide. Recognized by Esquire magazine as one of the most powerful producers in television, he was the creator and producer of the hit TV series The Fresh Prince of Bel-Air and producer of the Oscar-nominated film Pleasantville.

© 2006, Andy Borowitz