Jewish World Review May 26, 2006 / 28 Iyar, 5766
Gore could cause global boring
By Andy Borowitz
Hillary produces cautionary documentary about former veep
http://www.JewishWorldReview.com | The election of former vice president Al Gore to the White House could result in a disastrous phenomenon called "global boring" in which millions of people around the world would fall asleep in an unprecedented narcoleptic pandemic.

That is the message of a new documentary about the 2000 Democratic Party standard-bearer that has been produced and narrated by Sen. Hillary Clinton (D-NY) and is being released in selected cities today.

The documentary, entitled "An Incoherent Truth," collects moments from some of Mr. Gore's most mind-numbing speeches to make a persuasive case that a Gore presidency would set off a doomsday scenario of global tedium.

Speaking at the film's premiere in New York, Sen. Clinton said that while the film "is not for the squeamish," it is a cautionary tale "that every American should see, if they can stand to sit through it."

Insisting that global boring is not a made-up phenomenon but one that is based in scientific fact, Sen. Clinton said that a Gore presidency "would unleash a force of boredom equal to a thousand 'Da Vinci Codes.'"

In his home state of Tennessee, Mr. Gore attempted to discredit the concept of global boring by giving a three-hour speech on the subject.

But at the conclusion of Mr. Gore's address, which was complete with slides, video, and PowerPoint demonstrations, there were mixed reviews for his performance.

"I would like to say that Al made his case," one Gore aide said, "but after ten minutes I found myself losing consciousness."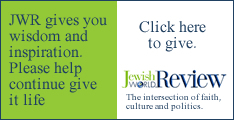 Every weekday JewishWorldReview.com publishes what many in in the media and Washington consider "must-reading". Sign up for the daily JWR update. It's free. Just click here.

Comment by clicking here.
JWR Contributor Andy Borowitz, the first-ever recipient of the National Press Club's Award for Humor, is a former president of the Harvard Lampoon,and a regular humor columnist for Newsweek.com, The New Yorker, The New York Times and TV Guide. Recognized by Esquire magazine as one of the most powerful producers in television, he was the creator and producer of the hit TV series The Fresh Prince of Bel-Air and producer of the Oscar-nominated film Pleasantville.

© 2006, Andy Borowitz