Jewish World Review May 25, 2006 / 27 Iyar, 5766
Hoffa taunts U.S. in new video
By Andy Borowitz
Late Teamster boss twits FBI for failing to find him
http://www.JewishWorldReview.com | Late Teamster leader Jimmy Hoffa appeared in a new video broadcast worldwide today in which he taunted the Federal Bureau of Investigation for failing to find him in their recent search for his remains.

For the FBI, whose credibility as the nation's top crime investigation unit has been somewhat tarnished in recent years, the surprising appearance of the Hoffa video is just the latest in a series of setbacks.

Looking surprisingly vigorous for a man who has not been heard from in over thirty years, Mr. Hoffa twitted the FBI agents for failing to locate him in Milford Township, about thirty miles north of Detroit.

"You can dig all you want, but you're never going to find Jimmy Hoffa," he said in the just-released video, adding, "I'm going to Disneyland!"

At the Federal Bureau of Investigation, officials said that they were studying the video closely but that early analysis indicated that it was authentic.

Mr. Hoffa's taunts created a public relations nightmare of sorts for the agency, who immediately attempted to put the best spin on the video.

"It does appear that Jimmy Hoffa has successfully eluded our attempts to find him," said FBI spokesperson Hedrick Bucknell. "On the positive side, this means we can stop digging."

Mr. Bucknell said that the Hoffa video serves as a strong argument for the FBI's program of domestic surveillance: "In addition to eavesdropping on every living person in this country, we're going to start doing it to the dead ones, too."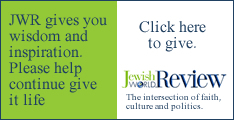 Every weekday JewishWorldReview.com publishes what many in in the media and Washington consider "must-reading". Sign up for the daily JWR update. It's free. Just click here.

Comment by clicking here.
JWR Contributor Andy Borowitz, the first-ever recipient of the National Press Club's Award for Humor, is a former president of the Harvard Lampoon,and a regular humor columnist for Newsweek.com, The New Yorker, The New York Times and TV Guide. Recognized by Esquire magazine as one of the most powerful producers in television, he was the creator and producer of the hit TV series The Fresh Prince of Bel-Air and producer of the Oscar-nominated film Pleasantville.

© 2006, Andy Borowitz