Jewish World Review May 17, 2006 / 19 Iyar, 5766
U.S. moves Lou Dobbs to Mexican border
By Andy Borowitz
Anchorman to serve as barrier to illegal immigrants
http://www.JewishWorldReview.com | In his toughest stand yet against illegal immigration, President George W. Bush today announced that he would move CNN anchorman Lou Dobbs to the United States' border with Mexico.

For Mr. Bush, who one day earlier had announced that he was moving 10,000 National Guard troops to the Mexican border, the decision to dispatch Mr. Dobbs means that the deployment of Guard troops was no longer necessary.

"It is my belief that America's most powerful weapon against illegal immigration has always been and will always be Lou Dobbs," Mr. Bush said in a nationally televised address.

Speaking from his studio in New York, Mr. Dobbs said he would continue broadcasting his nightly "Moneyline" program from the Mexican border while keeping an eye out for illegal aliens trying to sneak across it.

Mexican president Vicente Fox, who was already concerned by Mr. Bush's decision to send troops to the border, was incensed today by the decision to deploy the CNN anchorman, calling the move "an act of intimidation."

"I could live with American troops on my border, but Lou Dobbs is another thing entirely," Mr. Fox told reporters in Mexico City.

While many in Congress questioned the decision to dispatch the newsman to the border, with some expressing concern about the cost of maintaining Lou Dobbs, Mr. Bush strongly defended the move.

"It was a choice between building a massive wall and sending Lou Dobbs," he said. "Lou Dobbs was cheaper."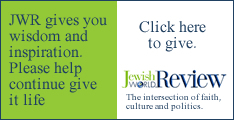 Every weekday JewishWorldReview.com publishes what many in in the media and Washington consider "must-reading". Sign up for the daily JWR update. It's free. Just click here.

Comment by clicking here.
JWR Contributor Andy Borowitz, the first-ever recipient of the National Press Club's Award for Humor, is a former president of the Harvard Lampoon,and a regular humor columnist for Newsweek.com, The New Yorker, The New York Times and TV Guide. Recognized by Esquire magazine as one of the most powerful producers in television, he was the creator and producer of the hit TV series The Fresh Prince of Bel-Air and producer of the Oscar-nominated film Pleasantville.

© 2006, Andy Borowitz