Jewish World Review May 16, 2006 / 18 Iyar, 5766
Britney Spears reproducing at unsustainable rate, scientists fear
By Andy Borowitz
Husband's troubling fertility tops agenda of Oslo conference
http://www.JewishWorldReview.com | Scientists attending a conference in Oslo, Norway to discuss threats to the global ecology placed pop star Britney Spears' rapid reproductive pace at the top of their agenda, conference attendees confirmed today.

While the conference had originally been organized to bring the world's greatest scientific minds together to grapple with such problems as global warming and avian flu, news of Ms. Spears' unexpected second pregnancy immediately pushed those issues to the back burner.

Many of the scientists' concerns focused on the alarming fertility of Ms. Spears' husband, Kevin Federline, who appears to be able to reproduce at will.

"According to the tabloids, Ms. Spears and Mr. Federline are almost never in the same city, and yet he still managed to fertilize her egg," said Dr. Zang Liangyong of Beijing University. "From all evidence, Mr. Federline appears to possess some kind of super-sperm that may be transmittable over phone lines."

Underlining the gravity of his concern, the scientist added, "Kevin Federline can no longer be considered a shiftless hanger-on and must now be thought of as a pandemic."

Dr. Zang said that if Ms. Spears and Mr. Federline continue to reproduce at their current rate, by the year 2030 one out of three children in the world will be the offspring of the famous couple, putting a strain on global resources.

"That is far too many Spears-Federline children for the earth to sustain," Dr. Zang said. "The only hope is that Brad Pitt and Angelina Jolie will adopt them."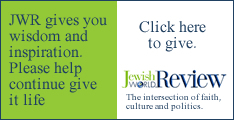 Every weekday JewishWorldReview.com publishes what many in in the media and Washington consider "must-reading". Sign up for the daily JWR update. It's free. Just click here.

Comment by clicking here.
JWR Contributor Andy Borowitz, the first-ever recipient of the National Press Club's Award for Humor, is a former president of the Harvard Lampoon,and a regular humor columnist for Newsweek.com, The New Yorker, The New York Times and TV Guide. Recognized by Esquire magazine as one of the most powerful producers in television, he was the creator and producer of the hit TV series The Fresh Prince of Bel-Air and producer of the Oscar-nominated film Pleasantville.

© 2006, Andy Borowitz