Jewish World Review May 31, 2005 / 22 Iyar, 5765
U.S. issues list of approved taunts for Guantanamo
By Andy Borowitz
Military urges use of non-religious insults
http://www.JewishWorldReview.com | Addressing concerns about the treatment of detainees at the U.S. detention facility in Guantanamo Bay, Cuba, the head of the Joint Chiefs of Staff today announced today that the U.S. was issuing a list of approved taunts for use on all detainees in U.S. custody.

Speaking at a press conference at the Pentagon, Air Force Gen. Richard Myers said that the U.S. military would have "zero tolerance" for religion-based taunting on detainees, adding, "There are so many other things that you can taunt prisoners about."

Gen. Myers said that any guard at Guantanamo who is using religion as the basis of taunts "just isn't using his or her imagination."

The list of approved taunts, compiled by the U.S. military after searching the joke files of insult comics across the country as well as a database of inner-city "snaps" or put-downs, will be issued to all military guards at Guantanamo, effective immediately, Gen. Myers said.

Gen. Myers used part of his press conference to demonstrate how the approved taunts might be used, as he tried out one of his favorite taunts from the list on a subordinate, Air Force Major Hogan Reigert.

"Major Reigert, you are so ugly, if you entered an ugly contest they would say, sorry, no professionals," he said. "Having said that, I want you to know that I respect your religion and your right to practice it."

Elsewhere, one day after film director Oliver Stone was arrested for DUI in Los Angeles, Mr. Stone said the arrest was a conspiracy between a bottle of Jack Daniels and two grams of cocaine.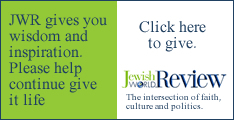 Every weekday JewishWorldReview.com publishes what many in in the media and Washington consider "must-reading". Sign up for the daily JWR update. It's free. Just click here.

Comment by clicking here.
JWR Contributor Andy Borowitz, the first-ever recipient of the National Press Club's Award for Humor, is a former president of the Harvard Lampoon,and a regular humor columnist for Newsweek.com, The New Yorker, The New York Times and TV Guide. Recognized by Esquire magazine as one of the most powerful producers in television, he was the creator and producer of the hit TV series The Fresh Prince of Bel-Air and producer of the Oscar-nominated film Pleasantville.

© 2005, Andy Borowitz