Jewish World Review May 27, 2005 / 18 Iyar, 5765
Tom cruise declares love for Katie Holmes on al-Jazeera
By Andy Borowitz
Seizes control of Arabic-language net
http://www.JewishWorldReview.com | Actor Tom Cruise stunned the Arab world today by seizing control of the Arabic-language al-Jazeera network to declare his love for former "Dawson's Creek" star Katie Holmes.

Mr. Cruise, who was seen jumping up and down on a couch declaring his love for Ms. Holmes on "Oprah" earlier this week, and who relentlessly professed his love for her at the Cannes Film Festival earlier this month, apparently decided that those declarations were insufficient because they did not completely reach the Arabic-speaking world.

According to sources inside al-Jazeera, a heavily armed Mr. Cruise burst in the the television network's studio's shortly after lunch, just as an announcer was broadcasting news of reported wounds to the U.S.'s most wanted man in Iraq, Abu Musab al-Zarqawi.

Brandishing a firearm and wearing two ammunition belts across his naked, gleaming torso, Mr. Cruise shoved the announcer out of his anchor chair and declared, "I love Katie Holmes so much it is absolutely unbelievable! I so totally love this girl!"

In his five-minute address to the Arab world, Mr. Cruise denied that his heavily-publicized romance with Ms. Holmes was in any way a trumped-up promotional stunt: "My love for Katie has nothing to do with my new movie, 'War of the Worlds,' directed by Steven Speilberg and opening in theaters everywhere this summer."

The Cruise incident left many at al-Jazeera shaken, including one studio technician who said, "That was scarier than anything we've broadcast by bin Laden."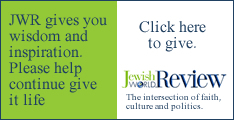 Every weekday JewishWorldReview.com publishes what many in in the media and Washington consider "must-reading". Sign up for the daily JWR update. It's free. Just click here.

Comment by clicking here.
JWR Contributor Andy Borowitz, the first-ever recipient of the National Press Club's Award for Humor, is a former president of the Harvard Lampoon,and a regular humor columnist for Newsweek.com, The New Yorker, The New York Times and TV Guide. Recognized by Esquire magazine as one of the most powerful producers in television, he was the creator and producer of the hit TV series The Fresh Prince of Bel-Air and producer of the Oscar-nominated film Pleasantville.

© 2005, Andy Borowitz