Jewish World Review May 23, 2005 / 14 Iyar, 5765
Saddam's look-alikes protest underpants photos
By Andy Borowitz
Pix reflect poorly on them, ex-dictator's doubles say
http://www.JewishWorldReview.com | Just days after photographs of former Iraqi dictator Saddam Hussein in his underpants were published by newspapers around the world, look-alikes of the ex-strongman took to the streets of Baghdad, protesting that the unflattering photos reflect poorly on them.

Sami Shamoom al-Mumayaz, who worked as a Saddam look-alike for fifteen years before the dictator's fall in the spring of 2003, expressed the view of many of the outraged look-alikes who clogged the streets of the capital: "We are humiliated and mortified that people will think that this is what we look like naked."

Over seven thousand of the former dictator's look-alikes marched through the streets of Baghdad, incensed at the notion that the world would now believe they shared Saddam's saggy, paunchy physique.

"It's bad enough being a former Saddam look-alike," Mr. al-Mumayaz said. "But it adds insult to injury to have people think that you have his fat a--."

The former doppelganger of Iraq's onetime tyrant said that since the photos have come out, he has suffered ridicule at the hands of those who believe he shares Saddam's lack of body tone and muscle definition.

"You don't know what it's like to have children chase you down the street shouting 'man-boobs, man boobs!'" he said.

Despite his bitterness, however, Mr. al-Mumayaz had advice for his former employer: "He should stop worrying about his trial and start doing some crunches."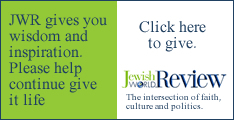 Every weekday JewishWorldReview.com publishes what many in in the media and Washington consider "must-reading". Sign up for the daily JWR update. It's free. Just click here.

Comment by clicking here.
JWR Contributor Andy Borowitz, the first-ever recipient of the National Press Club's Award for Humor, is a former president of the Harvard Lampoon,and a regular humor columnist for Newsweek.com, The New Yorker, The New York Times and TV Guide. Recognized by Esquire magazine as one of the most powerful producers in television, he was the creator and producer of the hit TV series The Fresh Prince of Bel-Air and producer of the Oscar-nominated film Pleasantville.

© 2005, Andy Borowitz