Jewish World Review May 19, 2004 / 28 Iyar, 5764
To die for
By Bob Alper
It's ain't easy being a Reform rabbi and a comic. Meet the world's only practicing clergyman doing stand-up comedy... intentionally.

http://www.jewishworldreview.com | The funeral director asked me to officiate, and since I didn't know the deceased, I compiled information for the eulogy through long distance calls. I added the final details just before the service, during a brief meeting with people who'd only minutes earlier emerged from planes and long automobile rides.

The survivors had assembled from far away locations, and although the family room where we sat was filled with sadness, it was impossible to miss the undercurrent of joy and love. They had come together to celebrate a long life and a gentle death. "Be honest in the eulogy," one daughter instructed me. "Nothing maudlin. You can see what kind of people we are."

And so, looking at the hundreds who had gathered for the funeral, I described Rose as she had been portrayed by the people who cherished her: "Rose was a loving wife. A devoted mother. An adoring grandmother. She was not a very good cook."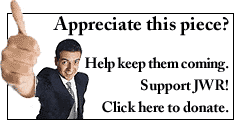 The congregation responded with a collective laugh. And why not? They knew Rose well. And as I spoke, they remembered the comical pride she always took in what she swore was her congenital inability to cook. That was the Rose they treasured.

Other times the humor in a funeral home has been more internal and private, when I've heard words that had me guffawing under an appropriately serious outer- expression. Like the time a close friend of the deceased was asked to speak in tribute. I introduced him, then sat just off to the side of the pulpit. The man walked slowly up the three stairs, opened a sheaf of notes and placed them on the lectern, and solemnly began, "We have gathered together to utilize Phil…"

Rabbis are not immune from fumbling a word or two. Especially when reciting verses that have become, perhaps, too familiar. On this occasion I was sitting in the pew while a colleague officiated. I quietly decided that the fellow had spent just a little too much time in Philadelphia when I heard him recite these words while reading the Twenty-third Psalm: "Yo though I walk…er…yea though I walk through the valley of the shadow of death…"

But my self-control meet its most formidable challenge not in a funeral home but of all places, in a supermarket. This was a trying moment. I was in the midst of pondering that critical choice, smooth or crunchy peanut butter, when an earnest looking gentleman passed by, then deftly turned his shopping cart 180 degrees and rolled up to mine, head to head.

"You're Rabbi Alper, aren't you?" he said, and continued, "I'm not a member of a synagogue, but I wonder if you could help me with a small problem." I nodded in the affirmative. And here was where my ability to keep a straight face should have won me an Oscar. "You see, Rabbi, my brother died last week, and I want to say Kaddish for him. So, Rabbi, could you do me a favor, and write it out for me fanatically?"
Every weekday JewishWorldReview.com publishes what many in Washington and in the media consider "must reading." Sign up for the daily JWR update. It's free. Just click here.
---
JWR contributor Bob Alper, the world's only practicing clergyman doing stand-up comedy . . . intentionally, is the author of Life Doesn't Get Any Better Than This: The Holiness of Little Daily Dramas and A rabbi confesses. To go to his web site, click here. Comment by clicking here.

© 2004, Bob Alper