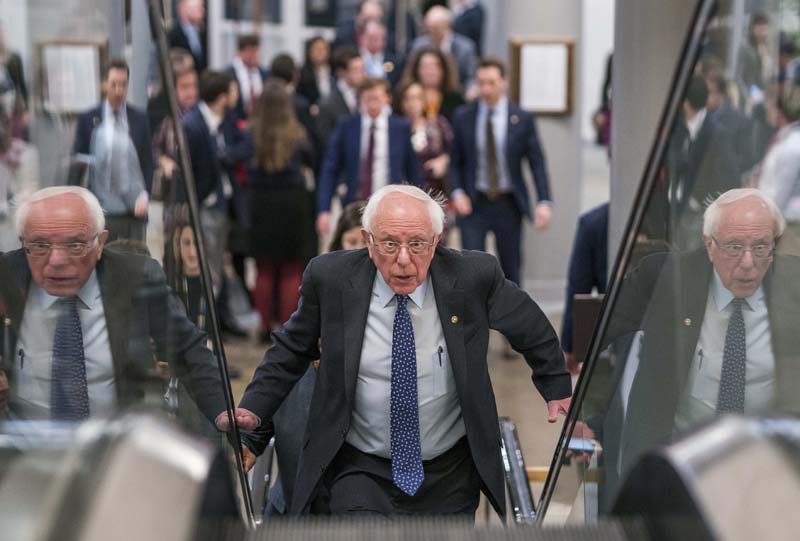 While Vermont Sen. Bernie Sanders has moved to the front of the pack in this week's national Emerson poll of the Democrats' presidential nominee, the first deciding vote in Iowa isn't for another nine-plus months.
Besides, April polls make for April fools. Just look back to the Republican frontrunners in mid-April 2015, two months before Donald Trump rode down an escalator and crashed the party: per Real Clear Politics' polling data average, a three-man scrum between Jeb Bush, Marco Rubio and Scott Walker.
But 2020 could have this in common with 2016: Sanders as Trump 2.0.
How so? Like Trump, Bernie isn't a rank and file member of the party he aims to represent. His run, like Trump's, is a hostile takeover of the Democratic establishment. It's not a stretch to envision Sanders blazing a Trumpian trail to victory: a plurality winner, week in and week out, who grinds down his opposition.
What comes next? In the general election, moderate Democrats would have to weigh the same Faustian bargain that moderate Republicans struck in 2016: access to power, even if it means sacrificing principles. The good news for #NeverTrump Republicans: they'd have sob sisters in the form of #NeverSanders Democrats.
What else happens in a world where the choices are a sitting president lacking dignity versus a sitting senator with all of seven sponsored bills enacted in nearly three decades in Washington (two of those bills naming post offices, the third establishing a Vermont bicentennial day)?
Americans might look for a viable third-party alternative. Good luck finding one.
The last time a presidential election was a serious three-way race – I'm not counting Ralph Nader, who altered the outcome of one race but never graced a national debate stage – would be 1992. H. Ross Perot received 20.6 percent of the vote here in California that year and nearly 19 percent nationally. He didn't win a single state or garner a single electoral vote, but he did succeed in aggravating both parties (the gracious George H.W. Bush went to his grave despising the fellow Texan).
What separated Perot from other third-party hopefuls? A genuine set of issues (national debt, distrust of free trade) that Republicans and Democrats fudged.
Clearly, there's an appetite for something different in politics. The numbers crunched earlier this week by The Sacramento Bee show it: the number of registered California Republicans is down a staggering 340,000 would-be voters since the last presidential election. Another 110,000 Californians no longer are registered Democrats. But the independent choices a year from now?
Perhaps Howard Schultz gives it a try. But there's little evidence that the former Starbucks CEO, who's running principally on the notion that toxic partisanship prevents the elected class from acting responsibly (well, duh), can get voters hooked on his candidacy the same way his company got us addicted to overpriced coffee.

Or perhaps we see a third-party run by a party defector – like John Kasich, the former Ohio Republican governor, or Michael Bloomberg, a Democrat turned Republican New York City mayor turned independent turned Democrat again.
But those two candidacies would be more about personal vendettas against Trump. As such, they'd have limited appeal to voters looking for something more uplifting in their presidential choices.
It's been a good week for the improbable. Tiger Woods roared back to form. The Los Angeles Clippers stole a game from the Golden State Warriors. Any chance of inspirational politics making a comeback in 2020?