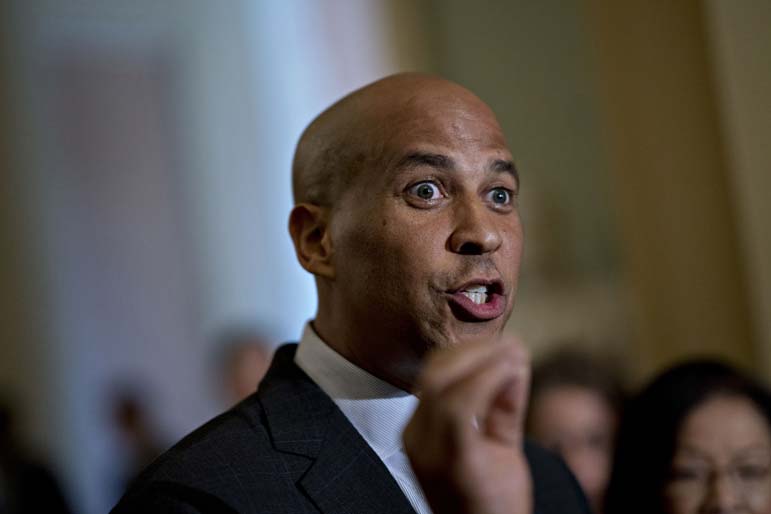 Seven summers ago, then-Newark Mayor Cory Booker returned to his alma mater, Stanford University, to deliver that year's commencement address.
Booker's is the sort of virtue-laden biography that Stanford loves to extol — a refined, courteous, cerebral football player who went on to a Rhodes scholarship and Yale Law School before making the pivot from a glidepath toward wealth to a nobler career in public service.
By the time Booker was back on Stanford sod, he was in his sixth year as the leader of a once-troubled New Jersey city and only a few months away from announcing his intention to seek his current job as a U.S. Senator.
The Cory Booker who spoke that day (Father's Day 2012, to be exact) was forceful and dynamic — and uplifting. The gist of his message: "a conspiracy of love." In his words: "[J]oin the conspiracy. To be a class of people that rejects cynicism . . . Be lovers. Join the conspiracy and love with all of your heart and all of your courage."
That was then, this is now. Whereas the Cory Booker of 2012 was a lover, the Cory Booker of 2019 is borderline-militant— a divider, not a uniter.
Take this passage, from Booker's weekend end rally in Newark (Booker announced his presidential campaign in February, but held a splashy rally on Saturday as the start of a national tour):
"We can't wait when powerful forces are turning their prejudice into policy and rolling back the rights that generations of Americans fought for and heroes died for. We can't wait when this administration is throwing children fleeing violence into cages, banning Muslims from entering the nation founded on religious liberty, and preventing brave transgender Americans from serving the country they love."
What happened to Booker?
The political odyssey is self-explanatory. Elected to the Senate in a 2013 special election and a full term the following year, Booker had no qualms angling to become the Democrats' first black running mate in 2016.
One of the reasons why Booker didn't make the final cut: Hillary Clinton assumed that she didn't need to make the extra effort to turn out the black vote.
Oops.
That takes us into the current presidential cycle — one in which Booker has embraced the kind of cynicism he once told Stanford grads to reject.
Booker's already pandered to the #metoo segment of the Democratic base, saying he'll "be looking to women first" should he secure the nomination.
He's sidled up to civil rights Democrats — timing his campaign's relaunch with the 56th anniversary of Martin Luther King's jail time in Birmingham.
For "free stuff" Democrats, Booker offers "baby bonds" (every newborn gets a taxpayer-funded "American Opportunity Account").
Let you fear that grievance-driven Democrats have gone forgotten: Booker wants to revisit slavery reparations.
And for that sliver of the Democratic electorate that can't get enough of star power: Booker keeps reminding America that he's involved with an actress who moonlights as a political activist.
Booker now embarks on a two-week "justice" tour of America. And, in ways MLK didn't intend, he too has a dream: to kick-start a flagging campaign.
What's wrong with Booker's run? In football parlance: the former pass receiver is blanketed by triple coverage.
Problem One: Booker isn't the only black candidate in the race. He shares that space with California Sen. Kamala Harris (she's Jamaican and Asian-Indian, actually). There's still an outside chance that Stacy Abrams will join the fun.

Problem Two: Booker isn't the coolest of the "Plan B" Democrats. In that space: former Texas Rep. Beto O'Rourke, who surpasses Booker in table-hopping, shirt-unbuttoned enthusiasm; and South Bend Mayor Pete Buttigieg, the race's flavor of the moment (life is good for Buttigieg when he appears in the same headline with the NBA playoffs and Game of Thrones).
Problem Three: Mayor Pete. Booker has told reporters: "I'm the only one in this race who had to run and manage thousands of employees, a city in the middle of a recession, which was a depression for inner cities." Indeed, Newark is nearly triple the size of South Bend, with a more complicated economy and set of social issues.
But for a Democratic primary voter looking to cast a feel-good ballot, which is the more compelling narrative: a Rhodes scholar, Ivy-educated former college football player managing a deep-blue northeastern city . . . or a Rhodes scholar, Ivy-educated Afghanistan veteran — who just happens to be openly gay — managing a midsize city in a state where Democrats are scarce?
For Booker, comparing himself to a slain civil rights leader is an overreach (what Stanford physics students might call a quantum leap).
But the idea of time spent behind bars isn't that far of a stretch. Booker's campaign isn't in prison, but it does reside in a progressive purgatory.
MLK was released from jail. Time will tell if Cory Booker can run unencumbered.