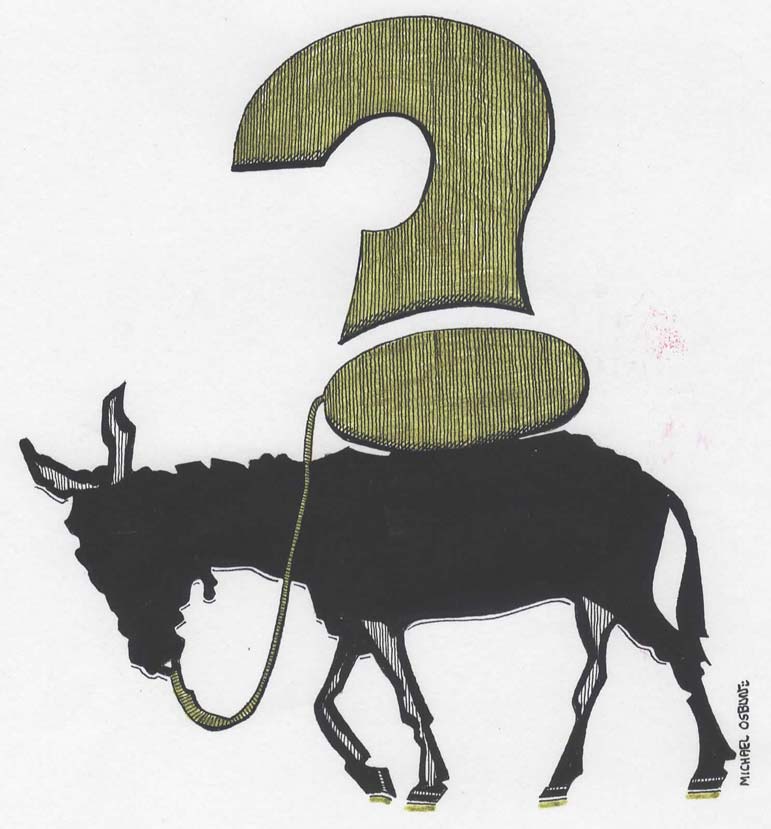 The headline on the homepage of The Drudge Report, from last week, neatly summed up the situation: "What Next?"
As in: what will happen in Washington now that, it seems, the Mueller Report has given President Trump a relatively clean bill of political health (i.e., there was no Stage Four diagnosis that neatly translates to an article of impeachment).
Can Congress and the White House get anything done, or is gridlock the order of the day for the next 585 days until the next election?
Or did I just ask a dumb question?
At this point, it's worth looking back at the last time a Republican president faced energized congressional Democrats. That would be 2007 and the aftermath of both chambers of Congress going Democratic in the previous year's midterm vote.
Did Democrats investigate the Bush 43 Administration?
Absolutely.
No sooner had power shifted than House Democrats started to delve into allegations that Bush appointees had violated the Hatch Act. The new majority also demanded White House emails so as to determine whether overseas contracting was on the level.
And there was more – much, much more. Hearings in 2007 showcased the wretched state of the Walter Reed National Military Medical Center (aka, "the Katrina of 2007"). Knowing she'd be camera-bait, Democrats trotted out Valerie Plame to relive her being outed as a CIA operative. The new majority pursued then-Secretary of State Condoleezza Rice, wanting to hear what she knew about Niger's uranium trade.
In this regard, 2019 isn't all that different in that the forecast calls for an onslaught of investigations. House Democrats likely will dig into the Trump Administration's travel ban and family-separation policy, as well as its response to Hurricane Maria and the devastation in Puerto Rico.
On the more personal front, President Trump's financial records (including tax returns) and his son-in-law's security clearance are inviting targets. The spending habits of the president's housing and former Interior secretaries likely will draw scrutiny. More zealous members of the majority caucus would like to revisit Brett Kavanaugh's personal history.
Speaking of coming full circle: White House emails again are a topic of discussion (this time, it's Ivanka Trump's use).
However, there is one vast difference between 2007 and 2019: present-day Democrats have yet to come to grips with how the Republican president came to power.
Then, as now, Democrats struggled with the legitimacy of the Bush 2000 victory ("43" lost the popular vote by nearly 544,000 votes). Members of the Congressional Black Caucus protested on the floor of the House of Representatives during the certification of electoral votes. Hillary Clinton went so far as to tell an audience at a private fundraiser that Bush had been "selected" president, not elected.
But by 2007, Democrats had moved on – to the target-rich Bush record on the economy and foreign policy. The 2004 election and Bush winning the popular helped to diffuse the bitterness. But congressional Democrats took the wiser of two paths: instead of brooding over the past and seeking impeachment as a measure of revenge, they chose to investigate more salient matters.
Will House Democrats take the same smart path in 2019? The liberal billionaire activist Tom Steyer continues to spend millions pushing an impeachment narrative. Yesterday, freshman Rep. Rashida Tlaib introduced a resolution calling for the House Judiciary Committee to investigate whether Trump has committed impeachable offenses (you might remember Tlaib from earlier this year, when she was seen telling supporters that Democrats would "impeach the mother---er").
A funny thing about that comment: Speaker Pelosi cleverly downplayed its toxicity ("I probably have a generational reaction to it, but in any event I'm not in the censorship business").
Indeed, when it comes to the dealing with the "problem children" in her caucus, Pelosi seems to have the upper hand in the relationships. Only one other House Democrat (Texas Rep. Al Green) signed on to Tlaib's resolution. California Rep. Maxine Waters, for the past two years arguably the harshest anti-Trumper in her party, now says that impeaching the president isn't a caucus goal.
Ok, then, what about Rep. Alexandria Ocasio-Cortez?
Sure, she has her outbursts. But Pelosi's Climate Action Now Act is, at best, a watered-down version of AOC's Green New Deal. Ocasio-Cortez wanted a seat on the all-powerful House Ways and Means Committee; instead, it went to a more fiscally conservative Democrat (presumably, without Madame Speaker's objection).
One other difference between 2007 and 2019 that has to be noted: the respective Democratic presidential fields.
Twelve years ago, the race quickly boiled down to two candidates: Hillary Clinton or Barack Obama. Today, the field has a pair of nominal frontrunners in Joe Biden and Bernie Sanders – and another dozen-plus Democrats all hoping for their moment.
Those candidates have different reasons for running – Washington Gov. Jay Inslee is obsessed with climate change; New York Sen. Kirsten Gillibrand is all about the battle of the sexes; Massachusetts Sen. Elizabeth Warren has zeroed in on class inequality and corporate excess.
Want to see the candidates fidget? That's easy. Ask them if Trump is a legitimate president.
And therein lies the Democrats' challenge in 2019. The party can't move forward until it ends its fixation with what's in the rear-view mirror – namely, the improbable loss to Trump. That means putting to rest the Russian conspiracy theories, allegations of voting irregularities in Upper Midwest states and the steadfast belief that voters were led astray by social media.
Such talk makes the party looks less than serious. And it interferes with what worked for Democrats in 2018: a focus on health care, immigration and presidential demeanor.
Pelosi understands this. That's why she's an impeachment buzzkill.
But can the Speaker keep her problem children in line?
If so, can a pax democratica last for another 585 days?