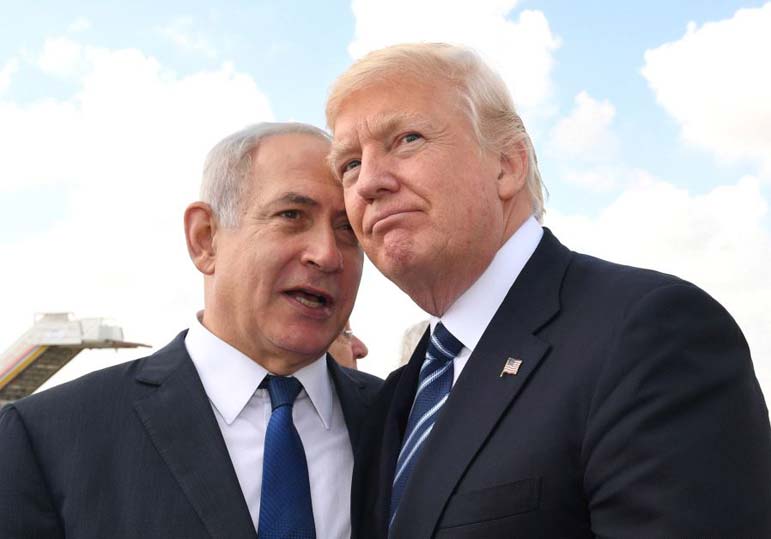 President Donald Trump's proposal for a "deal of the century" to resolve the Arab-Israeli conflict promises practical improvements in the lives of Palestinians but is likely to stop short of ensuring a separate, fully sovereign Palestinian state, according to people familiar with the main elements of the effort.
The White House is expected to roll out its long-anticipated peace package later this spring or by early summer, after more than two years of effort by Trump adviser and son-in-law Jared Kushner. Officials have kept details of the plan secret, but comments from Kushner and other U.S. officials suggest that it does away with statehood as the starting premise of peace efforts as it has been over the past two decades.
The plan would represent Trump's effort to put his own stamp on diplomacy to resolve a conflict that has festered since 1948, and it is likely to focus heavily on Israeli security concerns. Trump has told friends he wants to upend traditional assumptions about how to resolve the conflict, but unlike in his unorthodox personal diplomacy with North Korea, Trump has largely outsourced the Middle East peace effort to his son-in-law.
Most analysts give Kushner little chance of success where decades of U.S.-backed efforts have failed. His prospects are worsened by the perception among European and some Arab leaders that Trump has shown his cards through a series of actions favorable to Israel.
Arab officials familiar with Kushner's sales pitches said he has offered no specifics but suggested that the plan turned on economic opportunities for Palestinians and an enshrining of Israeli control of disputed territory.
Kushner and other U.S. officials have linked peace and economic development to Arab recognition of Israel and acceptance of a version of the status quo on Palestinian "autonomy," as opposed to "sovereignty," people who have spoken with the Kushner team said.
Israeli Prime Minister Benjamin Netanyahu's promise on the eve of his re-election last week to annex some Jewish settlements in the West Bank added to the perception among diplomats and analysts that the Trump administration will greenlight broad Israeli control over disputed land.
"What we've tried to do is figure out what is a realistic and what is a fair solution to the issues here in 2019 that can enable people to live better lives," Kushner said in a rare interview with Sky News Arabia as he sought Arab support on a visit to the region in February.
"We believe we have a plan that is fair, realistic and implementable that will enable people to live better lives," a senior White House official said Friday. "We looked at past efforts and solicited ideas from both sides and partners in the region with the recognition that what has been tried in the past has not worked. Thus, we have taken an unconventional approach founded on not hiding from reality, but instead speaking truth."
Netanyahu has promised to consider the plan, which Trump has said will ask concessions of both sides. Palestinian Authority President Mahmoud Abbas has said the Americans are biased, but a chief adviser said last week that the Palestinians will not reject the Trump plan out of hand.
Trump lawyer Jason D. Greenblatt, who would be the lead U.S. negotiator for talks, tweeted a direct appeal to Palestinian leaders last week.
"To the PA: Our plan will greatly improve Palestinian lives & create something very different than what exists," Greenblatt wrote. "It's a realistic plan to thrive/prosper even if it means compromises. It's not a 'sell out' - if the plan isn't realistic, no one can deliver it."
Kushner described the plan as having four pillars: freedom, respect, security and opportunity.
"We want people to be able to have the freedom of opportunity, the freedom of religion, the freedom to worship, regardless of your faith," Kushner said in the Sky News interview.
"We want all people to have dignity and to respect each other" and "be able to better their lives and not allow their grandfather's conflict to hijack their children's future," he said in a reference to Palestinian demands.
"And the final one is security," Kushner said, a clear reference to the chief Israeli demand for any settlement of the seven-decade conflict.
The Palestinian Authority cut off all official contact with the Trump administration in December 2017 when Trump followed through on a campaign promise to declare Jerusalem as Israel's capital.
Kushner and Greenblatt have called the Palestinian boycott shortsighted in discussions with Arab and European nations whose financial and political backing they seek. But Kushner has also pointed to the Jerusalem decision as a potential selling point, telling a Saudi audience in February that Trump keeps his word and can thus be a trustworthy broker for peace.
That Feb. 26 meeting in Riyadh included Saudi intellectuals and columnists as well as government officials, and the participants were chosen by Crown Prince Mohammed bin Salman, one person familiar with the session said.
The prince has forged a close relationship with Kushner and is seen as more supportive of the peace plan than is his father, King Salman.
"He did listen to critical points and questions but wasn't willing to think about criticism and was defensive," the person familiar with the session said.
"He seemed to have been surprised when he learned that the majority of people in the room were critical of his plan and told him that King Salman emphasized the rights of the Palestinians," the person said.
Although Trump had said in September that he expected a rollout within four months, U.S. officials reset the timeline when it became clear that Netanyahu would call early elections. The plan will wait at least until after Netanyahu forms a government, and probably also until after both the Passover and Ramadan observances.
"We are still weighing a variety of factors," one U.S. official said. "Timing is still being worked out, and no decision has been made at this time as to when we are going to roll it out."
The U.S. official requested anonymity to discuss plans for the still-secret package. Some Arab and Israeli officials familiar with discussions around the package also requested anonymity because they were not authorized to disclose contents of confidential meetings.
Netanyahu, a close Trump confidant, appears to have support from enough political parties to form a governing coalition over the coming weeks. Right-wing parties that support expansion of Jewish settlements and opposed concessions to Palestinians are likely to be a sizable component, leading some analysts to declare that the election means the end of a "two-state solution."
Israeli U.N. Ambassador Danny Danon said Israel is waiting like everybody else for details of the U.S. ideas.
"We will welcome it, we will look at it. We are open-minded," Danon said in an interview. "Unlike the Palestinians, we do respect the work that was done by the team, and we will be willing to look at it and speak about it. The Palestinians say exactly the opposite - they say we don't want to speak with the Israelis and we don't want to see the plan that was drafted by the U.S."
The package is expected to call for tens of billions of dollars in aid and investment in the West Bank and Gaza Strip, the two areas where most Palestinians live, and billions more to Egypt and Jordan, the two Arab states that have made peace with Israel.
"What we have found is that all the conflict does is keep people from having the opportunity to do commerce and to have opportunity and improve their lives," Kushner said in the interview. "Hopefully, if we can resolve this issue we will be able to see a lot more opportunity for the Palestinian people, for the Israeli people and the people throughout the region."
Kushner has been less keen to discuss the U.S. financial contribution, analysts said, and it is not clear whether Congress would back any large-scale U.S. spending toward a deal that did not promise Palestinian statehood.
Wealthy Persian Gulf states "were asked to support financially the economic part," during Kushner's latest tour, said Ghaith al-Omari, a former Palestinian Authority adviser who is now an analyst at the Washington Institute for Near East Policy.
"In polite terms the answer they gave was, 'First tell us what we are supposed to pay for,' Omari said. "There were no commitments."
U.S. officials have said the package is not a buy-off of Palestinian claims.
"The economic plan only works if the region supports it. This is a very important part of the overall equation," the senior U.S. official said. "But this is not a so-called economic peace. We are taking very seriously both aspects of this, the political, which deals with all the core issues, and the economic," the official said.
The core issues are generally understood to include borders, Palestinian claims to land in what is now Israel and the status of contested Jerusalem. In the most recent negotiations under three U.S. presidents, those issues have been elements of proposals to establish a separate Palestinian state in the West Bank and Gaza, and that was what was meant when U.S. negotiators talked about a political settlement. This time, it is not clear what the United States means.
"We understand that if the political aspect of it is not solid, the economic aspect is meaningless. But at the same time, the political aspect will not succeed without a proper economic plan," the U.S. official said.
Ilan Goldenberg, who was chief of staff to the lead U.S. negotiator in the last failed effort under President Barack Obama, said that he agrees with Kushner's strategy to put a detailed set of proposals at the outset of any negotiations but that he still expects that package to be a nonstarter.
"I think this plan is dead on arrival," said Goldenberg, who directs the Middle East Security Program at the Center for a New American Security. "The biggest concern is if the plan is heavily biased toward Israel, which is what we expect, and they put it down and the Palestinians reject it, then it becomes a predicate to move toward annexation."
Every weekday JewishWorldReview.com publishes what many in the media and Washington consider "must-reading". Sign up for the daily JWR update. It's free. Just click here.