Jewish World Review April 9, 2010 / 25 Nissan, 5770
The secret life of appliances
By Lori Borgman





http://www.JewishWorldReview.com | Nothing is what it seems in the world of appliances. When our washing machine went kaput, I went shopping for a new one and asked for a brand name — you know, the one with the lonely repairman who never has any work and waits for women to call.

The salesman said, "Sure, I can show you that brand. This five-speed top-load baby has your brand name right there on top — but that's not really who made it."

Wink, wink.

When our refrigerator joined the breakdown conspiracy a month later, we replaced it with a sleek side-by-side number. I'd tell you the brand, but that salesman also said the brand names don't mean what they used to. He said a number of different brands share the same manufacturer and are built with the same manufactured parts.

That probably explains why my parents once had a Kenmore stove delivered from Sears, opened the bottom drawer and found a GE information booklet.

That refrigerator we bought came with a phone number to call for repair information — in New Zealand. I am curious what the charge would be for a home-service call. Probably more than your basic $79.95, what with the cost of transcontinental air-fare, shuttles and a hotel with a breakfast bar.

Consumer Reports played Six Degrees of Kevin Bacon, finding connections between appliances instead of celebrities. Whirlpool makes appliances for Whirlpool, KitchenAid and Gladiator, Admiral, Amana, Jenn-Air, Magic Chef and Maytag. And in yet another conquest, Whirlpool also makes appliances for IKEA and Kenmore. If they ever make a movie about the relationships between appliances, it will be rated R.

Kenmore, one of the more amorous lines of appliances, not only has a relationship with Whirlpool, but also maintains liaisons with Frigidaire and LG.

Appliances change partners more often than the leads in soap operas. Just when you think all these appliance liaisons could not grow any more risqué, Electrolux, the high-end Swedish manufacturer, begins cavorting about with Frigidaire and Tappan. Do their flat top ranges never even blush?

Electrolux, spotted on the red carpet with Sears, also heats things up with Kenmore and Kenmore Pro.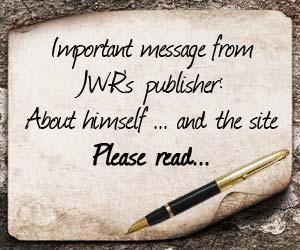 I recently gave my credit card number over the phone to purchase a small appliance that was made by who knows what company and told the customer service representative it was a MasterCard. She took the number and said, "Nope, it's a VISA."

I corrected her and said, "No, the card used to be VISA, but now it's a MasterCard."

"Not anymore," she said. "That line of MasterCard, was bought out by VISA."

It's a sad day when you can't trust your plastic. Or the brand name on your kitchen appliances.

The brand you thought you bought probably belongs to another company, and even that company could have been bought out by the time you finish reading this piece.

It even makes you wonder if the Maytag man is as lonely as he claims or if he secretly has a full and busy social life.
Every weekday JewishWorldReview.com publishes what many in the media and Washington consider "must-reading". Sign up for the daily JWR update. It's free. Just click here.
JWR contributor Lori Borgman is the author of , most recently, "Catching Christmas" (Click HERE to purchase. Sales help fund JWR.) and I Was a Better Mother Before I Had Kids To comment, please click here. To visit her website click here.
© 2009, Lori Borgman