http://www.JewishWorldReview.com | We used to watch the news to learn the news, but now it seems we watch the news to watch the anchors.

The other day we were watching a market update and in the midst of the Dow surging, I exclaimed, "Look at that woman's complexion!"

"It's a soft-focus filter," the husband said. "The Dow is headed for a new high."

"Forget the Dow. That woman has flawless skin. She's beautiful," I sighed.

"Well, she's also young," the husband added.

"There's a reason they don't have old people on television," I said.

The husband corrected me and said, "They do have old people on television — they're all on "60 Minutes."

Our critique sessions began when the skirts on a female co-host on a morning news show started growing shorter and shorter. We're talking scary short as in I only want to see that much exposed thigh at a KFC.

"Maybe someone will tell her to pull her skirt down at the commercial break," I said. "Surely the cameramen see that. Why don't they tell her?"

"The cameramen may like it," the husband said.

And then I started checking that morning news show daily to see if someone might send in an e-mail ("Pull your skirt down — this is your mother!") or a producer might appear in the corner of a shot making a tugging motion. Nothing. And somehow it all spiraled downward from there.

We now voice opinions on pastel ties, suits with wide stripes, and a certain evening host whose nearly every guest is female, under 40 and blonde.

We are usually generous in our comments, with the exception of men who color their hair.

"Nobody has hair that black," the husband says. "It looks like boot polish."

"He should have gotten his eyebrows done when they did his hair," I offer, oblivious to the 23-car Interstate pile-up the man is describing.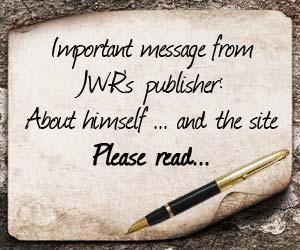 It is our opinion that a female doesn't have a chance at the national level these days unless she has walked at least three beauty pageant runways and has file footage of the swimsuit competition.

It's not just broadcasters under pressure. A magazine article recently had a short bio on the writer at the end. It mentioned the college she graduated and that she was a former Miss Somewhere or Another. I wonder if she thinks that's how Woodward and Bernstein got their start?

Honestly, it is impressive that the females on the tube can look so good day after day. Only a select few that can pull that off — Darwin's Survival of the Prettiest.

If I was on morning television, they'd have to run crawlers across the screen saying things like, "Out late last night, bags under the eyes," or "Puffy today, water retention, too much salt."

One final fashion observation is that some female broadcasters now show cleavage. There was a time when a woman wouldn't think of wearing a plunging neckline on a news program. It was considered unprofessional and could jeopardize a woman being taken as seriously as a man. But now the game has changed.

If male broadcasters want to be taken as seriously as the women, they should loosen their ties, rip open their shirts, show their pecs and some chest hair.

Twirling flaming batons couldn't hurt either.
Every weekday JewishWorldReview.com publishes what many in the media and Washington consider "must-reading". Sign up for the daily JWR update. It's free. Just click here.
JWR contributor Lori Borgman is the author of , most recently, "Catching Christmas" (Click HERE to purchase. Sales help fund JWR.) and I Was a Better Mother Before I Had Kids To comment, please click here. To visit her website click here.
© 2009, Lori Borgman