Jewish World Review April 14, 2004 / 24 Nissan, 5764
Bat mitzvah gift bounced — now what?; senior wants to move to new facility in another daughter's town; CFO opens employee's mail
By Wendy Belzberg

http://www.jewishworldreview.com | Q: A check my daughter received for her bat mitzvah came back from the bank "Insufficient funds." The gift was from a school friend, whose parents I don't know well. My husband says I should call them and see if it is OK to re-deposit the check, but I don't want to embarrass anyone.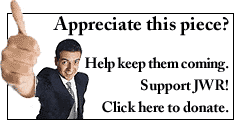 A: That the check bounced will come as no surprise to your friends: the bank will not only have let them know but will have exacted its pound of flesh in the process. This is not the equivalent of informing a friend that his fly is open or her bra strap is showing. In those cases you are sparing a friend a public embarrassment. In this case you would be compounding what is already a vast private embarrassment. Don't even think about it. Furthermore, I hope you had the good sense not to tell your daughter what happened; even well meaning teens can accidentally embarrass a friend. She needs to know nothing, except that it's always good to get the thank you notes out promptly.

Q: I have lived in an Independent Living facility for over 3 years. I am thinking of moving to another one in the city where my oldest daughter lives. My youngest daughter lives in my town. I don't want to hurt her. What should I do?

A: It is not clear from your query whether you are moving to get away from your youngest daughter, to be closer to your eldest, or if you are simply looking for a change of scenery. Unless there is bad blood between you and your younger daughter there would be no reason for her to take offense at your move; it isn't about her— unless of course you leave her to believe it is. Whatever is driving your move, you have lived too long to worry about pleasing other people.

Do what is right for you and your lifestyle period. Your younger daughter will presumably master the commute, which your older daughter has handled for the past three years. This is commonly knows as an embarrassment of riches, by the way.

Q: For 20 years I have worked for a small family-owned contracting business. One of the owners is the acting CFO and receives & distributes all incoming mail for the company. For as long as I can remember she has opened every letter and package that comes across her desk. It is infuriating to go to my mailbox and find my letters already opened. I suspect that either the owner has something to hide, or that she doesn't trust me to redirect correspondence for other departments. I have never expressed my concern with the owners, and before doing so I need to understand all sides. What is accepted protocol in this situation?

A: Opening someone's personal mail is right up there with snooping through his or her medicine cabinet or top desk drawer. On the other hand, you seem to imply that you've been allowing someone to invade your privacy for two decades. Which one of you is nuttier? Personally I don't know a graceful way to present a twenty-year-old grievance, and like to believe that's because there isn't one. But go ahead: You can always say you've been waiting until you had proved your fidelity to the company to tackle this one. Or mention that you feel you've earned the right to your privacy. Or you can cut a deal: She can open your mail, if you can open hers. There's a reason envelopes were invented, after all.
Every weekday JewishWorldReview.com publishes what many in Washington and in the media consider "must reading." Sign up for the daily JWR update. It's free. Just click here.
---
Ask Wendy a question — almost any question — by clicking here.







© 2004, Wendy Belzberg