Jewish World Review April 9, 2004 / 19 Nissan, 5764
He's making a list, checking it twice…
By Andrew Silow-Carroll
A Leftist mag with an international following "outs" influential supporters and advisors of the president based on their religion

http://www.jewishworldreview.com | Kalle Lasn,
Editor-in-chief,
Adbusters
Vancouver, BC

Dear Mr. Lasn,

I am an infrequent but often admiring reader of your Vancouver-based magazine, which lampoons corporate culture and the way advertisers manipulate the media to sell products and ideas. I'm no fan of the magazine's reflexive anti-globalization stance, but at least you have shown a sense of humor in satirizing McWorld.

For a moment there I thought you were kidding, in the most recent issue, when you published your article titled "Why Won't Anyone Say They're Jewish?" That was the article in which you provided a list of the "50 most influential neocons" and helpfully placed a star next to those who are Jewish. "The point," you explained, "is simply that the neocons seem to have a special affinity for Israel that influences their political thinking and consequently American foreign policy in the Middle East." And in case we still didn't get "the point," you ended the article by declaring, "And half of them are Jewish."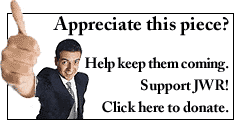 When readers suggested that such a singling out of individuals by ethnicity — as opposed to their mere political leanings — may be construed as racist, you were unapologetic. "They have the power to start wars and to stop them," you wrote back. "And if we see maleness, whiteness, Jewishness, Zionism or intellectual thuggery there, then let us not look the other way."

Indeed, let us not. Too many of the folks who have written similarly about the nefarious Jewish influence in the White House since the launch of the Iraq invasion one year ago — like Pat Buchanan, to name one — merely point out the problem. But isn't it time we did something about it?

I know that Adbusters is action-oriented, urging its readers not only to consider ideas but to act on them. For example, having identified the nefarious global influence of sneaker giant Nike, Adbusters urges readers to buy your own brand of blackSpot sneakers in order to "usher in a more grassroots version of capitalism." Similarly, noting that "corporations now control more than half the information networks," Adbusters urges readers to sign a manifesto demanding "the right to buy radio and television airtime under the same rules and conditions as advertising agencies."

If, as you write, Jewish neocons are "the prime architects of America's foreign policy since 9/11" — as opposed to, say, George Bush, Dick Cheney, Colin Powell, Condoleezza Rice, Karl Rove, Tommy Franks, Donald Rumsfeld, or Richard Armitage — then why not give your readers a similarly pointed action plan?

Allow me to suggest a number of possibilities:
Organize a petition campaign asking the president to limit the number of Jewish advisers who can be appointed to top government agencies.
Urge lawmakers to carefully screen all policy directives that may offer a secondary benefit to Israel. Suppose, to take a wacky example, that radical Islamic groups abroad have threatened to carry out and have carried out attacks on the United States. Our new policy would be to forestall intelligence gathering and law enforcement among such groups if they are also sworn enemies of Israel. Neocon Jews should not be allowed to force our country to protect its own citizens just to do Israel a favor.
Jews who seek policy positions should be given a test determining if they put the interests of Israel before those of the United States. We can call it a "loyalty oath." I seem to remember such oaths were demanded in the 1950s, and they proved very popular, especially on the Left.
Repeal the constitutional provisions that have given neocon Jews, as you put it, "the power to start wars and to stop them." Demand that the Constitution be amended so that power is returned to the White House and the Congress.
Until lawmakers and commanders-in-chief demonstrate that they are strong enough to think for themselves and resist the seductive powers of those Jews who write for neocon journals, demand that they no longer be allowed to subscribe to or read such publications. Similarly, urge that the government issue press licenses, and limit the number of licenses going to journals featuring the work of such pro-Israel figures as Norman Podhoretz, Irving Kristol, Charles Krauthammer, and Midge Decter. Especially Midge Decter. Her role as the president's closest adviser has gone on for too long.
Send to every influential (non-Jewish) policymaker the book Stalin's Secret Pogrom: The Postwar Inquisition of the Jewish Anti-Fascist Committee (Yale University Press, 2001), by the northeast regional director of Amnesty International, Joshua Rubenstein (a Jew!). Rubenstein describes how the Jewish Anti-Fascist Committee was established on Stalin's orders in April 1942 in order to drum up Jewish support for the American-Soviet alliance against Nazi Germany (yet another example of a leader allowing himself to be surrounded by influential Jews). When the committee's members became vocal supporters of the State of Israel, Stalin grew disenchanted with their work. Like you, he decided to "tackle the issue head on." Uncle Joe didn't just post a list of these Zionist Jews. He ordered the committee dissolved. And, oh yes, he ordered the execution of 13 intellectuals on Aug. 12, 1952. And all of them were Jewish.

These are just a few of my suggestions. I'm hopeful — no, confident — that you can come up with many more. After all, Adbusters showed remarkable courage in raising this issue. Let's see if it is equally brave in following it through to its logical conclusion.

Best wishes,
ASC
Every weekday JewishWorldReview.com publishes what many in Washington and in the media consider "must reading." Sign up for the daily JWR update. It's free. Just click here.
JWR contributor Andrew Silow-Carroll is Editor-in-Chief of New Jersey Jewish News. Send your comments to him by clicking here.
© 2003, New Jersey Jewish News