Jewish World Review March 11, 2011 / 5 Adar II, 5771
Compelling Testimony, Political Theater at Radicalization Hearing
By Steven Emerson
Ignoring and sometimes belittling testimony from relatives of young Muslims who were lured into terrorism, Democrats on the House Homeland Security Committee spent most of Thursday's hearing on Muslim radicalization repeating talking points

http://www.JewishWorldReview.com | When members of Minneapolis' Somali community realized their sons had disappeared and likely gone back to Africa to join a jihadist group, mosque leaders told them to keep quiet.
If you go to the FBI, you could end up in Guantanamo Bay with alleged terrorists, some were told. If authorities learn about it, mosques in America might be shut down in response. You, the worried relatives were told, will pay for that in the afterlife by being damned with "eternal fire and hell."
Abdirizak Bihi's nephew was among those missing. Burhan Hassan later would be killed in Somalia after joining the al-Shabaab terrorist group.
How this promising A-student grew so radical that he gave up the American dream was supposed to be the focus of a hearing Thursday before the House Homeland Security Committee. The spike in homegrown Islamist terrorism cases in recent years - driven by a targeted recruitment effort of young Muslim Americans by al-Qaida, is a concern for American law enforcement and intelligence officials.
The hearing's focus solely on Islamic radicalization generated criticism in the weeks leading up to it and throughout the more-than-four-hour proceeding.
Committee Democrats repeatedly devoted significant portions of their time to attacking the hearing's focus on Islamic radicalization. U.S. Rep. Sheila Jackson Lee of Texas wondered whether the hearing violated the First Amendment's protection of religious freedom. California Rep. Jackie Speier denigrated the panelists' experiences, calling them anecdotes that offered little from which to learn.
FREE SUBSCRIPTION TO INFLUENTIAL NEWSLETTER



Every weekday NewsAndOpinion.com publishes what many in the media and Washington consider "must-reading". HUNDREDS of columnists and cartoonists regularly appear. Sign up for the daily update. It's free. Just click here.
For all the vitriol, none of the witnesses made any sweeping generalizations about the faith of Islam or about Muslim people. Los Angeles County Sheriff Lee Baca, who again defended the Council on American-Islamic Relations (CAIR) despite documented ties to a Hamas-support network, still commended the hearing's topic and praised fellow panelists as "incredibly important" witnesses.
Joining Bihi and Baca were Melvin Bledsoe, father of a man who claims to be an al-Qaida jihadist, and Zuhdi Jasser, founder of the American Islamic Forum for Democracy.
Bledsoe, like Bihi, described his own family tragedy. His son Carlos grew up happy and well-adjusted, until he was "manipulated and lied to" after converting to Islam by local Muslim leaders who helped him go to Yemen and study with radicals. In June 2009, Carlos Bledsoe, now called Abdulhakeem Mujahid Muhammad, opened fire at a Little Rock, Ark., Army recruiting office, killing one soldier and injuring a second.
His father testified that other "hunters" for al-Qaida and other terrorist groups are trying to recruit more Muslims to join their jihad. He repeatedly stressed that he has other Muslim relatives, whom he described as "modern, peaceful, law abiding people."
He wondered why a conversation about radicalization among Muslims like his own son generated so much angst. "It seems to me that the American people are sitting around and doing nothing about Islamic extremism, as if Carlos's story and the other stories told at these hearings aren't true. There is a big elephant in the room, but our society continues not to see it."
The nation's first Muslim-American congressman, U.S. Rep. Keith Ellison, D-Minn., was the most emotional, appearing to fight back tears as he described false rumors about Mohammed Salman Hamdani, a Muslim paramedic who died on 9/11.
A hearing on radicalism in general would have been acceptable, Ellison said. "When you assign their violent actions to the entire community," he said, "you assign collective blame to the entire group."
Other committee members were outwardly hostile to Chairman Peter King, R-N.Y., and to some of the witnesses. Lee of Texas said the hearing placed the Constitution "in pain" by demonizing an entire community. Oddly, she found the presence of two Muslim witnesses testifying about obstruction from organized Islamic groups - Jasser and Bihi - to be proof that Muslims indeed were cooperating with authorities.
"They are here doing what this hearing suggests they do not do," she said. "I question where are the uncooperative Muslims?"
Speier said she saw little value in the testimony because she did not consider witnesses like Jasser, Bihi and Bledsoe to be experts. "Do you have the expertise" to testify, she asked Jasser.
"That's interesting," he replied. "The theocrats ask me that all the time."
In his testimony, Jasser called for a "counter-jihad" on the Internet and in the community to stress principles of liberty against what he sees as the collectivization and victimization emphasized by Islamists.
"I appreciate the anecdotes," Speier said, "but I don't think they are very enlightening."
As the hearing was broadcast, Dawud Walid, head of the CAIR Michigan office, was posting comments on his Twitter feed equally dismissive of the witnesses:
"Bihi has basically a one person organization and is not seen as a leader by Somali-Americans."
"Somehow, I don't think Mr. Bledsoe wrote this and was approached."
"No such thing as "counter-jihad" Jasser. Jihad means Struggle. Uneducated about Islam."
CAIR attracted its own attention during the testimony. King displayed a poster published on the group's San Francisco chapter website, first reported by the Investigative Project on Terrorism, which urged Muslims to "Build a Wall of Resistance. Don't Talk to the FBI."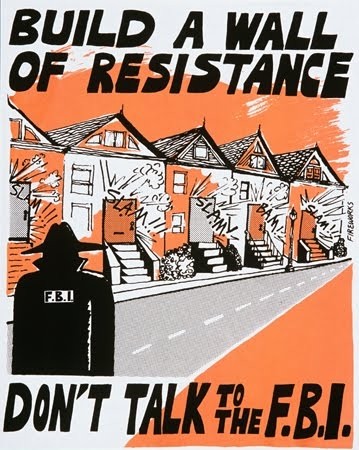 While CAIR officials later removed the poster and claimed it did not reflect the organization's policies, Bihi singled out CAIR for siding with local religious leaders in discrediting the relatives of the missing Somali men, calling them liars and tools out to destroy the mosque. CAIR discouraged people from talking with the FBI, he said, calling it "a slap in the face for the Somali American Muslim mothers who were knocking on doors day and night with pictures of their missing children and asking for the community to talk to law enforcement about what they know of the missing kids."

CAIR did nothing to help the families, he said. "We are isolated by Islamic organizations."

In his opening statement, King called CAIR "a discredited organization that should be rejected." U.S. Rep. Frank Wolf, R-Va., testified about the FBI's decision to cut off access to CAIR because of its documented ties to a Hamas-support network. Despite that, the group is "routinely and mistakenly elevated in the press as voice of mainstream Muslims" enjoying access to high level government officials.

Baca, who gave CAIR a full-throated and defiant endorsement during a hearing last year, seemed more subdued Thursday. He has "never had briefing from FBI what their position is," he said. His own experiences in California have been positive, but he acknowledged he could not attest to what might happen elsewhere.

At times, members were able to discuss the growing volume of homegrown Islamists terrorists. U.S. Rep. Mike McCaul, R-Texas, mentioned the repeated promotions for Army psychiatrist Nidal Malik Hasan despite displaying an obvious pattern of radicalization. It reached a crescendo in November 2009, when Hasan opened fire at a processing center at Fort Hood, killing 13 people and wounding 32 others. Hasan had been in contact with American-born cleric Anwar al-Awlaki, considered the most influential voice in radicalizing suspects in a string of terrorist plots.

"To ignore this in name of political correctness is a serious threat," McCaul said. "I am concerned there are organizations telling the community not to cooperate with the FBI."

As previous hearings have shown, the sophistication of al-Qaida's appeal to American Muslims is increasing. Whether the issue is a comfortable one or not, susceptible young Muslims will continue to be targeted with messages urging them to strike out against their homeland.

Bledsoe warned the committee that his son's experience should be a cautionary tale for policymakers. "One thing is for sure," he said, "it will happen again."

=<<

Every weekday JewishWorldReview.com publishes what many in Washington and in the media consider "must reading." Sign up for the daily JWR update. It's free. Just click here.

Interested in a private Judaic studies instructor — for free? Let us know by clicking here.

Comment by clicking here.

JWR contributor Steven Emerson is an internationally recognized expert on terrorism and national security and considered one of the leading world authorities on Islamic extremist networks, financing and operations. He now serves as the Executive Director of The Investigative Project on Terrorism, one of the world's largest archival data and intelligence institutes on Islamic and Middle Eastern terrorist groups.

if (strpos(, "printer_friendly") === 0) {} else { =<<

© 2010, Steven Emerson