<!- end inthis -->
Jewish World Review March 25, 2010 / 9 Nissan 5770
From Britain's Tories, lessons for the GOP
By Anne Applebaum
http://www.JewishWorldReview.com | And now, my fellow disappointed conservatives, former conservatives and disgusted conservatives, it is time for all good Republicans to come to the defense of David Frum, and to endorse his critique of talk-show rhetoric. If you've left the party in disgust, then call up your friends who are still members and get them to do it for you.
I am not writing this because David Frum is my friend, although he is. I am writing this because I was recently in London, where I got a close-up look at the state of the British Conservative Party, once the intellectual motor of free-market economics in Europe and the rest of the world. After almost two decades in power, the British conservatives lost, in 1997, to Tony Blair's slicker, smoother, Labor Party -- a party that had accepted the basic premises of Thatcherism and then moved on.
At the time, the Tories reckoned they would be in opposition for a couple of years at most: All they had to do was return to their basic principles and declare them with greater fervor and more self-righteous anger than ever before. They knew what the British people really wanted, they told one another, and ran two angry campaigns that reeked of xenophobia. The result: The Tories have been out of power since 1997. Thirteen years.
After the second, decisive election loss, the conservatives finally made some changes. They elected a new leader, younger and "modernizing." They changed their social policies to match the views of the majority. They supported the green movement -- hugely popular among their own, heavily rural electorate -- and accepted the basic premises of Blairism and moved on. Above all, they changed the way they spoke: No more shouting. No more anger. No more arrogance.
The result? The Tories are once again real contenders. But only barely. The latest polling shows that even now, with Britain ruled by one of the most unpopular prime ministers in recent memory, they are still not assured of a victory over Gordon Brown's Labor Party, and recent polls have them slipping. I can't think of anything worse for Britain than another term in office for Labor, a party that has left the United Kingdom with a vast public deficit, an awkwardly (but irreversibly) reformed constitution and heavily restricted civil liberties. But the Tory Party's nasty public image -- arrogant, mean, small-minded -- is proving difficult to discard.
I haven't asked him, but I'll bet that Frum had this example partly in mind when he wrote, a couple of days ago, that the American Republican Party had just had its Waterloo, even though it doesn't apparently know it.
As a fully paid-up member of the mushy political center, I am in favor of universal access to health care and also horrified by what President Obama's bill is going to cost. So whom should I be voting for? If congressional Republicans are determined to fix this bill by, say, reforming the medical malpractice laws that drive up costs and put doctors out of business, then they've got my vote. If, instead, they are going to scream "communist" and "fascist" at our democratically elected president -- thereby achieving nothing at all -- then I want nothing to do with them.
In the coming days, many conservative pundits will surely echo the words of another pundit I know and like, Tunku Varadarajan, who has dismissed Frum as a "polite-company conservative," and who argues that Frum is wrong about that nasty talk-show rhetoric, on the grounds that "passionate extremism is part of any political debate." Well, "up to a point, Lord Copper," as a certain British novelist would put it: The history of the Tories shows that if by exciting your base you lose the center, then you lose the next election too.
Every weekday JewishWorldReview.com publishes what many in the media and Washington consider "must-reading". Sign up for the daily JWR update. It's free. Just click here.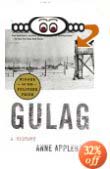 APPLEBAUM'S LATEST
Gulag: A History
Nearly 30 million prisoners passed through the Soviet Union's labor camps in their more than 60 years of operation. This remarkable volume, the first fully documented history of the gulag, describes how, largely under Stalin's watch, a regulated, centralized system of prison labor-unprecedented in scope-gradually arose out of the chaos of the Russian Revolution. Fueled by waves of capricious arrests, this prison labor came to underpin the Soviet economy. JWR's Applebaum, a former Warsaw correspondent for the Economist and a regular contributor to the Wall Street Journal and the Washington Post, draws on newly accessible Soviet archives as well as scores of camp memoirs and interviews with survivors to trace the gulag's origins and expansion Sales help fund JWR.
Comment on JWR contributor Anne Applebaum's column by clicking here.

Previously:

03/16/10: Britain and America both have center-left leaders, but the two nations are further apart than ever
03/09/10: Germany Is Tired of Paying Europe's Bills
03/02/10: Chile will survive the earthquake because its democracy works
02/23/10: Prepare for war with Iran — in case Israel strikes
02/17/10: America's Greek tragedy?
02/09/10: The Big Problem With Big Solutions
01/26/10: India's model of reflective patriotism
01/12/10: Haiti's man-made disasters
01/12/10: We need a smarter way to fight the jihadi elite
01/05/10: How every year we waste millions on wasteful homeland-security projects
12/30/09: The next decade will be bad for authoritarian regimes except one
12/15/09: The Apocalypse Is Not Upon Us

11/24/09: Superpower without a partner 11/17/09: Why has the global response to swine flu been so politicized?
11/10/09: After the wall fell
11/03/09: Angela Merkel's Quiet Revolution
10/20/09: Will the President of Europe Be a Gifted Pol or a Compromising Bureaucrat?
09/29/09:What Is Iran Afraid Of?
09/22/09: Letting Europe Drift
09/17/09: Greed and fear are proving stronger than companies' commitment to free speech
09/08/09: Will Obama Fight For Afghanistan?
09/01/09: The Polish Prologue
08/20/09: Why Afghans Need a Vote
07/29/09: No Burqa For Clinton
07/14/09: The Summit of Green Futility
07/09/09: Obama Puts Medvedev Ahead of Putin
06/30/09: In Morocco, an alternative to Iran
06/23/09: An overlooked force in Iran
06/16/09: Some good in a bad election
06/09/09: Why Is the Right Doing So Well in Europe?
06/02/09: Is China Pulling Strings in North Korea?
05/26/09: What a Member of Parliament Deserves
04/22/09: The Twitter Revolution That Wasn't
04/14/09: Do we really need interactive exhibits to bring Jefferson to life?
04/07/09: No Nukes? No Thanks: Obama's odd obsession with universal nuclear disarmament
03/31/09: What's Loud, Unnecessary, and Costs $75 Million?
03/23/09: Ctrl-Alt-Diplomacy
03/03/09: European Disunion
02/24/09: Who cares what Hillary Clinton says to China's leaders about human rights?
02/17/09: Witless protection
02/10/09: Our Ticket Out of Afghanistan
01/27/09:Why some foreigners can't believe Obama won the presidency fair and square
01/20/09: A Flight Test for All of Us
01/14/09: Europe's New Cold War
01/07/09: Pointless Peace Proposals
12/30/08: The magnificent rhetorical legacy of the Founding Fathers
12/23/08: Do riots in Athens portend demonstrations in Paris and Cincinnati?
12/16/08: Breach of Trust: Bernard Madoff's massive fraud will cripple American capitalism
12/09/08: In praise of charismatic politicians
12/03/08: Moscow's Empire of Dust
11/20/08: Getting Past Mythmaking In Georgia
11/12/08: In Praise of Political Rock Stars
10/03/08: Election Day myths you must resist
09/30/08: Not just a metaphor: Lehman Brothers was economic's 9/11
09/04/08: Class of '64
08/28/08: Did Hillary really help the Barack cause?
08/27/08: 'Show of Power,' Indeed
08/19/08: What Is Russia Afraid Of?
08/13/08: When China Starved
08/11/08: Two of the world's rising powers are strutting their stuff
08/05/08: How Alexander Solzhenitsyn's The Gulag Archipelago changed the world
07/29/08:'The Hour of Europe' Tolls Again … But are European politicians up to the task?
07/15/08: Why Does Obama Want To Campaign in Berlin?
07/01/08: Citizen Athletes: How did a guy who can't speak Polish end up scoring Poland's only goal of Euro 2008?
06/24/08: Why do we expect presidential candidates to be kind?
06/17/08: Pity the Poor Eurocrats
06/12/08: Is the World Ready for a Black American President?
05/28/08: The Busiest Generation: America seems to value its children's status and achievements over their happiness
05/20/08: Leave Hitler Out of It: The craze for injecting the Nazis into political debate must end
05/13/08: A Drastic Remedy: The case for intervention in Burma
05/07/08: A Warning Shot From Moscow?
04/23/08: Radio to stay tuned to
04/17/08: China learns the price of a few weeks of global attention
04/01/08: Head scarves are potent political symbols
03/26/08: The Olympics are the perfect place for a protest
03/19/08: Could Tibet bring down modern China?
03/12/08: Have political autobiographies made us more susceptible to fake memoirs?
03/05/08: Why does Russia bother to hold elections?
02/20/08: Kosovo is a textbook example of the law of unintended consequences
02/06/08: A Craven Canterbury Tale
02/06/08: French prez' whirlwind romance reminds voters of his political recklessness

© 2009, Anne Applebaum. By permission of the author
Columnists
Toons
Lifestyles