Jewish World Review March 18, 2004 /25 Adar, 5764
Full speed phonies
By Jackie Mason & Raoul Felder

http://www.jewishworldreview.com | Phonies are like trolley cars. There's usually another one coming down the tracks. Just after we were getting over one phony — Clinton — we have another one waiting in the wings.

Clinton, of the lies and double-talk —it depends what "is is" — who smoked but did not inhale, who remembered Black churches being burned in the South, although the last time it happened was thirty years before he was born, who felt your pain and, if you are a female, anything part of you that is in reach, and who even at the end of his reign debased the presidency by granting criminals last minute politically and personally — enriching pardons, and then left like the visitor who walked off with the family silver. OK, so he didn't take the silver — it was just White House odds and ends, and then, shamelessly sent out invitations for housewarming gifts for his new home. Obviously, we could go on and on about the subject, but it is the next Democratic candidate for his position that compels our interest.

John Kerry is the second — Gary Hart was the first — wannabe Kennedy imitators to inhabit our political landscape. They combed their hair like Kennedy, dressed like Kennedy, motioned with their hands like him, womanized like him — although in fairness to Kerry, after landing a rich widow — making him the richest member of the Senate — he stopped chasing girls. Well, at least if he didn't actually stop, he managed damage control brilliantly, and at least in this respect, out-Clintoned Clinton.

On a Thursday, when his relationship with an intern surfaced, instead of becoming a semantic expert like Clinton, he went immediately to work. On the Thursday, the girl's father said he would not vote for Kerry, and her mother, as reported by the father, always felt that Kerry was despicable. By Saturday the father was voting for him, and the girl was located in Africa and said all the rumors were lies and Kerry never laid a hand, or anything else, on her. There are those who would argue that just for the way he handled this problem alone, he deserved to be President. If Kennedy was half as smart in defusing the Cuban missile crisis we would not have been at the brink of war, and he would not have committed American troops to Viet Nam beginning the slippery slide into an unpopular and probably wrong war. At least Viet Nam served one purpose — it gave something for Kerry to talk about.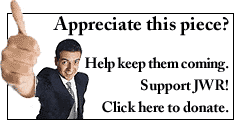 All during the Democratic primaries, the airwaves were saturated with Kerry's activities in Viet Nam. If there was a possibility we could forget he was in Viet Nam, he would drag a veteran up on the podium with him — usually the more injured the better, in order to exploit them and this countries mistakes.

We naively believed that this election was not about something somebody did or did not do thirty-five years ago, but rather, what Kerry as a President would do today. We had the unworthy thought that the next President would not be called upon to drive a boat up a river as part of his Presidential duties.

When the Republicans called into question Kerry's recent votes to undercut the military and security of the country, he immediately screamed that his bravery and patriotism were being called into question. In short, his maneuver was to cut off constructive debate about the problems of today by name calling. Worse yet, when TV commercials were made by the Republicans that focused on President Bush's actions surrounding 9/11, Kerry called it exploiting a tragedy. However we believe that 9/11 was a defining moment in modern history, not only for us, but for the rest of the world also and that the way this President has dealt with history's greatest assault on America and how he will deal with the problem of protecting the country from future 9/11s, is the issue of most life and death interest to the country. Kerry feels most comfortable with this great debate stagnating over a boat going up a muddy river three decades ago, and apparently will pull out all demagogic stops — including insulting the President's patriotism — to prevent the real issues from being argued. Can anyone seriously believe that President Roosevelt should not have mentioned Pearl Harbor when he ran for a fourth term.

It should also fairly be noted that some of our greatest wartime Presidents like Lincoln and Roosevelt had virtually no heroic service records, or even any military service at all, and some of our worst — like Grant and Kennedy — were wartime heroes.

Kerry's record — his real pertinent record — the flip-flops on issues, eviscerating military budgets — should be the stuff of legitimate public discourse, and Kerry should be allowed to explain and discuss. He should save the river tales to tell to his grandchildren — while counting their trust funds.

We try to approach Kerry with an open mind, putting political affiliation and party aside. So far he comes up as, at best, a windbag who takes himself too seriously, and at worst a demagogue. We would love to be proved wrong. Stifling honest debate is not the way to do it.
Sign up for the daily JWR update. It's free. Just click here.
JWR contributors Jackie Mason and Raoul Felder need no introduction. Comment on this column by clicking here.
© 2004, Mason and Felder