<!- end inthis -->
Jewish World Review March 11, 2004 / 18 Adar, 5764
Tim Robbins' Devious Plot
By Lawrence F. Kaplan
New play about neoconservatism is a poisonous, production-length conspiracy theory
http://www.jewishworldreview.com | One of my colleagues and I have a running bet: Who can find the dumbest reference to "neoconservatism"? Until last week, the honor was Tina Brown's. In a Washington Post piece last year, she recalled "the New Deal for which neocons of the '30s bitterly reviled FDR as 'that man'" — the problem, of course, being that "neocons" did not emerge until 30 years after FDR's death, and the movement's founders vigorously supported the New Deal. But, in a new play, Embedded (opening later this week at New York's Public Theater), film star and director Tim Robbins outdoes even Tina Brown. Embedded, moreover, is not only dumb. It is poisonous, a production-length conspiracy theory guilty of the very sins it attributes to the "cabal" that it claims to expose.
Embedded, written and directed by Robbins, tells the story of the war in Iraq ("Gomorrah") from three vantage points. The first belongs to a character named Private Jen-Jen (clearly modeled on Jessica Lynch) and her fellow soldiers on the ground, whom Robbins beatifies as victims of the cabal. The second belongs to the journalists covering the war, whom Robbins depicts, with few exceptions, as a craven bunch deferring to military censors at nearly every turn. The third, and most interesting series of scenes, belongs to the cabal itself — the cynical architects of the war, who, from behind their Greek masks, plot the invasion of Gomorrah on their calendars. "Woof" (Paul Wolfowitz, presumably), "Pearly White" (Richard Perle, definitely), and the other cabalists reason that a war will distract the public from the crumbling economy. More important, it will prove once and for all the hypotheses of the late University of Chicago professor Leo Strauss, the cabal's hero and the production's villain, whose hapless visage is projected in the background.
What exactly are those theories? The cabal, despite its repeated shouts of "hail Leo Strauss!" (this, to a Jewish refugee from Nazism), doesn't give us much insight. Fortunately, the program for Embedded, which contains an essay by someone named Kitty Clark, does. (For the New York production at least, someone in Robbins's orbit had the good sense to expunge from the original essay, which I found on the Internet, several pointed references to the Jewishness of Strauss and his supposed adherents.) In the program's telling, Strauss believed that democracy "was best defended by an ignorant public pumped up on nationalism and religion. Only a militantly nationalist state could deter human aggression." As for Robbins himself, in an NPR interview earlier this week he explained that he could only figure out why the neoconservatives supported war in Iraq by looking to their association with "a philosopher named Leo Strauss that a lot of them studied with, who actually conceptually believes in a noble lie for a greater good, coming from Plato." Bull Durham, meet the New School for Social Research.
Leaving aside for a moment Hollywood's reading of Straussian political theory, there is the small matter that the principal architects of the war — Dick Cheney, Donald Rumsfeld, and the president himself — had in all likelihood barely even heard of Leo Strauss before James Atlas penned a piece in The New York Times last year explaining who he was (the piece clearly made an impression on Robbins, who quotes from it). As for the neoconservatives themselves, despite Robbins's assertion that Irving Kristol studied under Strauss — Robbins appears to be confusing Irving, who is well into his 80's and in any case attended City College, with his son Bill — what, if any, debt they owe him remains questionable at best. Nor, if they do owe such a debt, is it at all clear that it is a pernicious one. Strauss's experience as a Jew who escaped the pogroms of his youth and the Holocaust that engulfed his contemporaries made him uniquely sensitive to the dangers of tyranny. Which, in turn, made him ... a liberal. He believed deeply that, as Atlas points out, "to make the world safe for the Western democracies, one must make the whole globe democratic, each country in itself as well as the society of nations." If this is the stuff of conspiracy, then American presidents from Woodrow Wilson to Bill Clinton clearly couldn't keep a secret.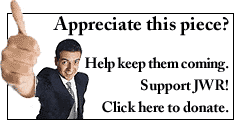 Indeed, when it comes to peddling the noble lie, no one outdoes Robbins himself. About Embedded, Robbins has this to say: "I'm not interested in any polemic. I'm not interested in any lecture." But Embedded is all polemic — a talking political pamphlet that doesn't even aspire to be aesthetic. If it's true that all art is propaganda, but not all propaganda is art, then Robbins has produced a masterpiece of artless propaganda. Nowhere is this truer than in his depiction of the everyday soldiers whose dignity he pretends to champion. Rather than give us human beings, Robbins gives us socialist realism: cardboard cut-outs who, when not being victimized by the cabal, do little but lament the number of welfare mothers in their ranks and the unpaid bills they have left behind. Even in the hands of socialist artists whose adolescent romanticism about their own everymen was considerably more sophisticated than this, the idealization of such characters was always something of a lie; in the much less capable hands of Robbins, the lie has only become more obvious. Embedded's treatment of its soldiers is dilettantism masquerading as solidarity, contempt pretending to be sympathy. Contempt not only for the soldiers themselves, but for the audience, too — which Embedded hectors in precisely the same manner that Robbins accuses the U.S. government of doing.
But Robbins knows a conspiracy when he sees one. We know this because his cabalists spend most of their time on stage devising ways to stir up the masses by accusing the leader of "Gomorrah" of "war crimes" and "Geneva Convention violations" (were there any mention of it in the script, Halabja would surely be found between quotation marks). We know this, too, because of Robbins's insistence that the war can only be explained by reference to Strauss (which neatly mirrors the far right's contention that it can only be understood by reference to Leon Trotsky). Finally, we know this because of the news sources on which Robbins purports to rely for his telling of the cabal's story. "Why are our outlets not willing to report things that papers in Europe are?" Robbins wonders in his NPR interview. Perhaps because those papers and the websites he recommends in the program — The Guardian, The Independent, Adbusters magazine (which recently made headlines by publishing a list of neoconservatives, with marks beside every Jewish name) — boast notoriously loose reporting standards? Nonetheless, having gleaned his information from these sources, Robbins intends to make sense of the world for us, to reveal the plans that the powerful few implement at the expense of the powerless many. Embedded amounts to conspiracy as recreation. Is it even necessary to point out that, when conspiracy fantasists gain broad audiences, very bad things tend to follow?
"The death of the paranoid style would have little contemporary relevance or historical value if it were applied only to people with profoundly disturbed minds," Richard Hofstadter wrote in his famous essay, The Paranoid Style in American Politics. "It is the use of paranoid modes of expression by more or less normal people that makes the phenomenon significant." By all accounts — or at least by the accounts one comes across in the supermarket check-out line — Tim Robbins does not have a profoundly disturbed mind. But neither does he qualify as a "more or less normal" person. He is, after all, a hugely successful and wealthy movie star. And while I happen to agree with the conventional wisdom that celebrities, because they tend not to know what they're talking about, have not earned the right to monopolize public discourse, I do not think that Robbins deserves condemnation for his vocal opposition to the war — anymore than I think Britney Spears deserves credit for her vocal support of it.
Yet it is precisely Robbins's stardom that compelled him to stage this production. Indeed, to hear him tell it, the cabal's principal victim was not Jessica Lynch, but Tim Robbins. During the war, it seems, the Baseball Hall of Fame stupidly revoked an invitation for him to attend the fifteenth anniversary celebration of Bull Durham. By his own account, this is what led Robbins to write Embedded. It also prompted him to give a speech in which he warned that "a chill wind is blowing in this nation. A message is being sent through the White House and its allies in talk radio and Clear Channel and Cooperstown: If you oppose this administration, there can and will be ramifications." Never mind that New Yorkers have been flocking to the Public Theater to see those ramifications.
Every weekday JewishWorldReview.com publishes what many in Washington and in the media consider "must reading." Sign up for the daily JWR update. It's free. Just click here.
Lawrence F. Kaplan is a senior editor at The New Republic. Comment by clicking here.
© 2004, The New Republic