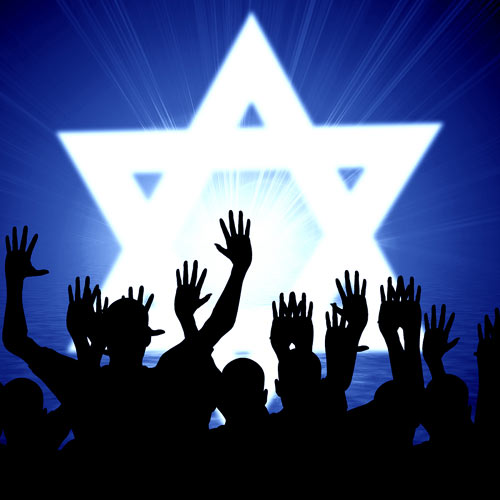 When Benjamin Netanyahu stood on the podium next to Donald Trump and proclaimed the Deal of the Century to be comparable to the 1948 Declaration of Independence, the Israeli prime minister knew there would be strong opposition from the Palestinian Liberation Organization, the Arab League, the European Union and other supporters of the Palestinian cause. He didn't think there would be opposition back home.
Netanyahu knew Trump had his back; and so, he believed, did the Israeli public. Benny Gantz, leader of the Blue and White party, was on board with the plan, along with a plurality of his center-left party supporters. Add Bibi's right wing, orthodox bloc to Gantz's secular, upper middle class liberals and you get a nearly wall-to-wall consensus.
Or so Bibi thought. But this consensus is more fragile than he anticipated.
Most Israelis favor the plan that requires Palestinians to recognize Israel as the Jewish state, drop the dream of millions of fourth generation refugees flooding the country, accept a demilitarized state with shrunken borders, give Israel control over all Jerusalem and accept annexation of the Jordan Valley and West Bank settlements. Even so, it turns out that this is a more complicated sell domestically than Bibi imagined.
The West Bank settlers, an integral part of his Likud bloc, want annexation to begin immediately. In Washington, Netanyahu promised that it would. But on Sunday, U.S. Ambassador David Freedman made clear that things are on hold at least until the March 2 elections. The U.S. wants time to draw a clear map, to allow the Palestinians to make a counter offer and, not least, for Israel to create a functioning coalition government capable of signing the deal.
The incensed settler leaders will not abandon Bibi - they have nowhere else to go - but they could become an opposition faction within the Likud bloc with the power to stymie a Palestinian state, even the most diminished.
Gantz, too, will face internal opposition from a never-Bibi faction whose condition for entering a unity government is that Likud drops Netanyahu. In the best of all worlds, Bibi would step down, but Bibi doesn't live in that world.
Gantz might be tempted to say yes to a Bibi-led coalition following the March 2 elections, but there are powerful voices working against it. One belongs to former Prime Minister Ehud Olmert. He has come out against the Trump plan and is holding a joint appearance with Palestinian president Mahmoud Abbas in New York on Tuesday, the day Abbas appears in the U.S. Security Council.
Olmert is not a member of Blue and White, but he is influential with the anti-Bibi wing. He says that the Trump plan is unrealistic, but there is the sense his objection is mostly personal. Back in 2009, when Olmert was indicted on corruption charges, Bibi proclaimed him unfit to continue in office. Olmert resigned and eventually went to prison. Bibi succeeded him as prime minister and has never looked back.
Now Netanyahu is the one under indictment for corruption. Olmert, as prime minister, would have been deliriously happy to get a deal like the one Trump is offering. Now he will be just as happy to undercut Bibi's big achievement.
The plan's biggest obstacle is Avigdor Lieberman, once Netanyahu's gofer and now his nemesis. It was Lieberman's party that brought down the ruling coalition in 2019 and then stalemated two subsequent elections. Recent polls show that Lieberman could do it again next month.
Lieberman, who hates Netanyahu even more than Olmert does, has no problem with the terms of the Trump deal, but he would prefer to implement them and reap the rewards as a senior minister in Prime Minister Gantz's government. Having Bibi watch this, nose pressed against the glass, would be sweet indeed.
But, if the polls hold (and they haven't been changing since the last election) Gantz plus Lieberman (and the small Labor Party) won't have enough raised hands to form a government.
The passive parliamentary support of the Arab joint list Knesset faction could enable a Gantz-Lieberman-Labor coalition over the top. But in the last election campaign, Lieberman called the joint list a traitorous "fifth column" and it is unlikely he will change his mind before the election. Gantz himself has pledged not to accept support from the list.
Such is the dangerously self-defeating pettiness of Israeli politics. The deal of a lifetime has come around for Israel - and it is very possible that there will be no government that can accept it. If the Trump plan fails, it won't because of opposition in Ramallah, Gaza or the U.N. Security Council.
It will be because Israel's mainstream political leaders are incapable of overcoming their partisan differences, animosities and personal ambitions for what they all recognize as the good of their country.
Sign up for the daily JWR update. It's free. Just click here.
(COMMENT, BELOW)

Previously:
• 01/20/20: Israel's big new gun could be an instrument of peace
• 11/15/19: Why Iran's nuclear escalation goes unchallenged
• 07/01/19: Jared Kushner's Bahrain conference was the sideshow --- and he executed it so well, most failed to grasp its realized goal
• 03/04/19: Bibi Netanyahu will never go quietly
• 02/25/19: New Med-East forum is about more than just gas
• 02/08/19: Why Viktor Orban will get a warm welcome in Jerusalem
• 01/11/19: Troop withdrawal from Syria has started. The real reasons why Netanyahu isn't worried
• 12/14/18: Bye, Bye, Bibi?
• 10/22/18: Why Netanyahu called off a war in Gaza
• 07/23/18: We can -- and should -- drink to that: Pepsico's buying SodaStream sends a resounding message
• 08/08/18: Israel's Left bit Bibi's bait --- yet again
• 07/23/18: Why Israel got the biggest win from Helsinki
• 06/27/18: Trump's new deal for the Middle East
• 06/04/18: Israel's Golan annexation deserves US recognition
• 04/20/18: Israel's survival through iron will and an iron wall
• 04/03/18: Israeli voters help Netanyahu defuse ethics inquiry
• 02/28/18: How Billy Graham made Israel kosher to evangelicals
• 02/07/18: Israel's immigration crisis is a lesson for Trump
• 01/29/18: What Pence's 'worthless' trip reveals
• 11/27/17: Look to Israel for a playbook on dealing with North Korea
• 11/27/17: Why Israel will dictate any terms of a 'peace deal'. And why the 'Palestinians' will have no choice but to accept them
Chafets is a journalist and author of 14 books. He was a senior aide to Israeli Prime Minister Menachem Begin and the founding managing editor of the Jerusalem Report Magazine.