Jewish World Review Feb. 2, 2005 / 23 Shevat, 5765
Israel: If Arabs can't control terrorism, we have no reason to continue negotiations
By Soraya Sarhaddi Nelson

Will 'land for peace' finally become the standard?
http://www.JewishWorldReview.com | (KRT)
ERUSALEM — Israel said it wouldn't hand over five West Bank cities to Palestinian authorities in the coming days as indicated earlier until militants stopped attacking Jewish targets in the Gaza Strip.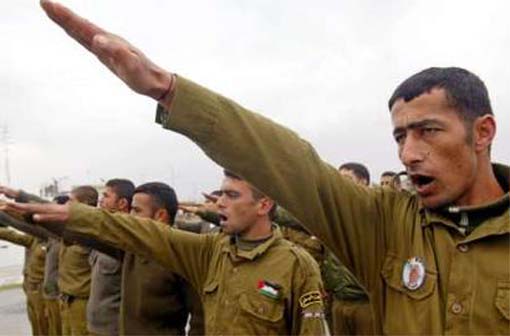 SIGNS OF THE TIMES: "Palestinian" security forces salute during a training session in the West Bank city of Tulkarm. Look familiar?
Israeli Defense Minister Shaul Mofaz delivered the message to former Gaza security chief Mohammed Dahlan during a meeting after a barrage of mortars against Jewish settlements in the coastal region.

Israel's stance increases the pressure on Palestinian leader Mahmoud Abbas in advance of his expected meeting around Feb. 8 with Israeli Prime Minister Ariel Sharon. Unless he's able to clamp down on the violence, the meeting is unlikely to net significant results.

The plan to pull back from the West Bank cities followed Abbas' election last month and his decision to deploy Palestinian security forces to secure the border between Israel and the Gaza Strip. Israeli leaders said they believed Abbas was making a genuine effort to halt the violence.

Israelis are hoping the summit will address their security concerns. Palestinians want thousands of Palestinian prisoners in Israeli jails released, a formal truce on both sides and steps toward a resumption of peace talks.

But Abbas may lack the political and military clout to halt the attacks, which continued yesterday with more mortar fire against Gaza settlements. No serious injuries or damage was reported.

Palestinian officials on Tuesday objected to Israel's preconditions, saying it was unreasonable to expect the newly elected Abbas to stop the violence in a few weeks when the Israeli military had failed for four years. Abbas had recently persuaded militants to adhere to an informal cease-fire, but he has refused to forcibly dismantle the groups as Israel insists.

"It's not enough to get Hamas to flip on the safety of their Kalashnikov rifles," said Dore Gold, a Sharon adviser. "Those rifles have to be collected and destroyed."

Palestinian leaders fear that a forcible crackdown on militant groups would lead to a Palestinian civil war.

By many accounts, the Palestinian security forces are 41,000 strong, 36 percent larger than what was stipulated in the 1993 Oslo Accords that established the Palestinian Authority.

Mohammed Shtayeh, a senior aide to Abbas, said Israel should halt its military activities in Palestinian territories if it wants violence to die down.
Every weekday JewishWorldReview.com publishes what many in Washington and in the media consider "must reading." Sign up for the daily JWR update. It's free. Just click here.
Comment by clicking here.
© 2005, Knight Ridder/Tribune Information Services.