Jewish World Review

Spanish-language radio shock jocks present obstacle for regulators

http://www.jewishworldreview.com | (KRT) The Federal Communications Commission may be in an uproar over Janet Jackson's exposed breast, but it's unlikely they were paying much attention to the raunchy jokes on the radio last week about her "teta desnuda."

More and more, Spanish-language radio, once considered a tame alternative to its English counterpart, is getting known for shows with language and jokes racy enough to make Howard Stern blush.

Last week, for example, the most popular Spanish-language radio show among young people in South Florida, "El Vacilon de la Manana" on WXDJ-FM, broadcast the voices of a masturbating priest and a pot-smoking welfare recipient. In another of their pranks, they called Haitian President Jean Bertrand Aristide's office, and when they couldn't get through, called his secretary gay.

A competing show, "El Mikimbin de Miami" on WRTO-FM, quipped about bare bottoms and chastity belts.

The rise of the Spanish shock jocks in markets with large Latino populations like South Florida, New York and Los Angeles has raised a chorus of complaints from Hispanic leaders, programming watchdogs and politicians who warn the medium is too explicit and largely unregulated.

"The standard by which we judge radio has been shattered. The level of acrimony that is there, the crude language, it's inappropriate for public hearing," said Raul Yzaguirre, president of the Washington-based National Council of La Raza. "Spanish-language radio is raunchier than English. And there is no accountability whatsoever."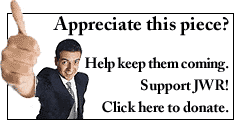 Of the 20 investigators in the FCC's obscenity enforcement bureau, only one speaks Spanish, officials at the commission say. So when complaints about Spanish radio come in, they are farmed out to a private company that turns the tapes into English transcripts, which are then reviewed by FCC staff.
Since November 1999, according to FCC records, the agency fined or proposed to fine five Spanish-language programs for indecency or obscenity for a total of $77,400. During the same period, the commission fined or proposed to fine 21 English-language programs a total of $1,377,500 for indecency or obscenity. Those statistics do not include fines for other violations.
Lawmakers in Washington, D.C., last week approved a measure that would significantly increase the fines the FCC can slap on offending broadcasters in English or Spanish.
"We do everything we can to make sure we get accurate and complete translations," said Linda Blair, deputy chief of the FCC enforcement bureau. "I feel like really we do OK. I think we do the work fine."
But critics say using English transcripts makes it difficult for the FCC to determine if a program is actually indecent since the vulgarity of many Spanish words can be lost in translation.
"In terms of English- and Spanish-language broadcast, there is a clear discrepancy on how much scrutiny the indecency problem is given," said U.S. Rep. Peter Deutsch, D-Lauderhill, a member of the House Subcommittee on Telecommunications and the Internet, which oversees the FCC. "The bottom line is that the FCC just doesn't have enough people to translate Spanish."
The FCC said the rate of complaints against Spanish-language broadcasts is still low compared to English outlets. Some Hispanic advocacy groups say that's because Spanish speakers don't realize they can file their concerns with the government.
Several politicians say the regulatory agency should start girding now for an onslaught of complaints as the immigrant population gets more assimilated and as the medium booms.
"If you look at the trends in terms of listeners, there is going to be more need for the FCC to police this," said U.S. Rep. Jim Davis, D-Fla., also a member of the FCC oversight subcommittee.
Hispanic entertainment is the fastest-growing segment in the broadcast industry. In the last decade alone, the number of Spanish-language outlets in television and radio nationwide has nearly doubled from 41 television and 347 radio outlets in 1993 to 79 television and 626 radio stations last year, according to Broadcasting and Cable magazine.
As those numbers keep getting bigger, enforcing decency standards on Spanish radio may prove more difficult than simply hiring more translators.
According to federal law, a program is obscene if it is offensive beyond "community standards."
In a city like Miami, where immigrants come from dozens of different regions, each with unique customs and taste, some say forming a community standard on what's obscene is not so simple.
"Some of the vulgar words for private parts in one country are innocuous in another," said Miguel Centeno, director of Princeton University's Institute of International and Regional Studies. "Take the verb coger. Say that in Cuba, and it's fine. Say it in Argentina, and people will look at you like you've just committed murder."
The shock jocks say it's the cultural misunderstandings, rather than an intention on their part to offend, that gets people riled up.
"We wouldn't say anything on the air that we wouldn't say in front of our mothers," said Enrique Santos, co-host of El Vacilon (The Joker), which reaches 50,300 listeners between the ages of 18 and 34, the highest in that age group among Spanish-language listeners in South Florida, according to fall season ratings by Arbitron Inc.
To their credit, Santos and co-host Joe Ferrero put out a show that's not all lowbrow humor and fart jokes. Staples of each broadcast include lots of community news and political satire, elements rarely heard on English competitors.
But Santos, a former North Miami police officer, acknowledges that like many entertainers, he pushes the envelope to win ratings. He said he feels less pressure from the FCC because his show is in Spanish.
"When it's 2 a.m. and you're leaving a club and hop on I-95 and you don't see any cars or troopers," he said. "Aren't you going to be tempted to go fast?"
Every weekday JewishWorldReview.com publishes what many in Washington and in the media consider "must reading." Sign up for the daily JWR update. It's free. Just click here.
Comment by clicking here.

© 2004, The Miami Herald Distributed by Knight Ridder/Tribune Information Services