http://www.JewishWorldReview.com | I mentioned to one of the kids that we were thinking of replacing a photograph that has been hanging on the wall for years and she went into shock. "You can't get rid of that picture of the old man," she shrieked. "He's been there so long he's part of the family."

"Well, the family is about to break up," I said. "This isn't a decision we rushed into; we've had that old man longer than we've had you. He is probably as tired of looking at us as we are of him."

The picture is a black and white photograph shot from a low angle of an elderly man with a set jaw, wearing a round hat and beard stubble. His rimless eye glasses reflect a big farm house about to be razed to make way for urban development. It's called Death of a Neighborhood.

The photo was more of a conversation piece when we were younger and the man in the picture was so much older than we were, but now that we are acquiring wrinkles on our necks similar to his, we're thinking a change may be in order.

I began looking around for replacement possibilities and discovered that a lot of wall art today consists of solid blocks of color. I'm not about to pay big bucks for a giant blue square when we have a grandbaby who will be able to grasp a marker in another year and make us one for free.

Landscapes are nice, but there's something about a lot of landscapes that is mildly depressing. A lot of them are so soft and pastoral they look like the great beyond. Others are so stark and barren they look like the aftermath of Agent Orange.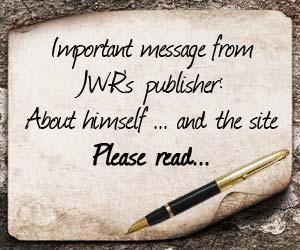 My parents had a beautiful landscape on their living room wall. It was a majestic view of a snow-capped mountain. When people would ask about it my mother about it she would tell them it was the Arctic National Wildlife Refuge (it wasn't) and that she was for drilling in ANWR.

Pictures of dancers are nice, but dancers are always so thin. Every time you walk by a painting of dancers you feel fat. I'm not ruling out a Renoir.

Another trend in wall hangings is graphics. Hanging your initials is popular. I toyed with that, but it reminded me of nursing homes where everything is labeled. We're not there yet, we still know our initials.

Wall stencils have become popular, especially the ones with inspirational sayings. I've seen charming ones that say, "All Roads Lead to Home," and "Dreams are Necessary to Life."

I'm a pragmatist. I'd want one that says, "Put it Back Where You Found It, Keep the Remotes Together and Take Your Dirty Dishes to the Sink."

Changing the wall decor isn't as easy as I thought. The old man is still hanging on.
Every weekday JewishWorldReview.com publishes what many in the media and Washington consider "must-reading". Sign up for the daily JWR update. It's free. Just click here.
JWR contributor Lori Borgman is the author of , most recently, "Catching Christmas" (Click HERE to purchase. Sales help fund JWR.) and I Was a Better Mother Before I Had Kids To comment, please click here. To visit her website click here.
© 2009, Lori Borgman