Jewish World Review Jan. 22, 2004 / 28 Teves, 5764
Boyfriend refuses to remove dead wife's ring; travel cross-country with estranged mother who is alone?
By Wendy Belzberg

http://www.jewishworldreview.com | Q: My boyfriend's wife died about 5 years ago. He still wears his wedding ring on his right hand and has no plans to take it off. What is the rule on this? Should I feel offended?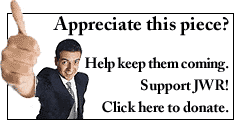 A: There is no tactful way to put this: your boyfriend's (dead) wife is not a threat to you. The ring may or may not be the symbol of a love he is not willing to relinquish. But unless you are also a proponent of thought-control — and there is new technology capable of aiding you in this — a ring is just a ring. I would be more concerned if you thought that his wife was preventing him from forming an emotional attachment, or getting on with his life. It is a fact: Your boyfriend lived a whole different life before he met you. There is no cause for offense there. He has years to go and 9 other fingers.

Q: When I was a child my mother stood by while my father kicked me around. I ultimately chose to live far from my family and to remain polite to them while keeping visits and contact to a minimum. My father made it easy for me when he disowned me. In the past year my father and only brother both died, and my mom is now alone. She wants to have a relationship and seems baffled and hurt by my reluctance to engage. I don't respect or like her. She has mentioned buying a small motor home and inviting us to do some traveling with her. Should my wife and I agree to go?

A: I wouldn't go on vacation in a small motor home — or a large yacht — with my husband and I happen to adore him. Those are close quarters even for the best of friends and family. Which you are not. The more space available for you to explore the damage you feel was done you by your mother through the years the better. You are obligated to respect your mother; but nowhere in the Ten Commandments are you ordered to like or love her. Take care of her physical and financial needs and explore the possibility that there may be love and respect (and guilt and apology and forgiveness) lying dormant.

But you have nothing to reproach yourself for.

You were the child and the victim. Your mother was the adult. She made her choice long ago, and it wasn't one that bode well for traveling in close quarters with her children
Every weekday JewishWorldReview.com publishes what many in Washington and in the media consider "must reading." Sign up for the daily JWR update. It's free. Just click here.
---
Ask Wendy a question — almost any question — by clicking here.







© 2004, Wendy Belzberg