Jewish World Review Jan. 7, 2004 / 13 Teves, 5764
Link between Syria and Spider-Man and Wal-Mart?
By J.R. Labbe
A shopping spree turns into a geo-political awakening
http://www.jewishworldreview.com | The Spider-Man T-shirt labels escaped close scrutiny until after the items were on the kitchen table, awaiting wrapping and bows.

It was bad enough being reduced to fighting last-minute shoppers at one of those big-box stores. But darn it all, when 4-year-old triplets have specific requests for gifts, and the only place to find them is a Wal-Mart, principle goes right down the toilet.

One hardly blinks these days at a "Made in China" or "Made in Japan" label. But "Made in Syria"? That'll draw you up short.

"Made in Syria" - as in Axis of Evil Part Two. As in political and logistical ally to Hezbollah and other armed radical groups. As in state sponsor of terrorists.

As in the target of Public Law No. 108-175, signed by President George W. Bush on Dec. 12, to "prohibit United States businesses from investing or operating in Syria."

Syria, exporter of toddlers' T-shirts with Spidey on the front.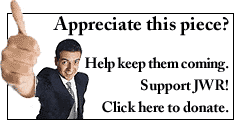 Apparently this shopper wasn't the only one who hadn't read the label until the purchase was final. Neither had Wal-Mart.

"We were not aware that we were carrying the merchandise you mentioned with a label from Syria," said Melissa Berryhill, senior public relations manager in Wal-Mart's headquarters in Bentonville, Ark. "Thank you for bringing it to our attention."

You're welcome.

Although it is curious that Wal-Mart, which has been accused of making conscious political and moral statements through the merchandise it chooses "not" to carry — no handguns, no books with questionable content or jacket art, no CDs deemed offensive, no video games that are overly violent — wasn't aware that it sold products made in a country listed as a rogue nation by the State Department.

Wal-Mart didn't break any laws in buying Syrian-made T-shirts. Neither did any of the American companies along the product chain that leads from a comic book character's merchandising rights and licensing agreements to the Haddad manufacturing company.

No statutes ban Syrian products from entering the United States.

"Although the Department of State lists Syria as a state sponsor of terrorism and reports that Syria provides `safe haven and support to several terrorist groups,' fewer United States sanctions apply with respect to Syria than with respect to any other country that is listed as a state sponsor of terrorism," said the congressional findings portion of HR 1828 - the Syrian Accountability and Lebanese Sovereignty Restoration Act.

With the act's passage, that could change. The president now has the authority to impose sanctions if Syria doesn't get right with the Western world.

Those penalties include prohibiting the export of U.S. products to Syria, prohibiting U.S. businesses from investing or operating in Syria, and banning aircraft owned or controlled by Syria from taking off from, landing in or overflying the United States — a "don't even think about it" sanction, given that this is not happening now.

But Syria can still sell goods here.

It's not as if Syria is a major U.S. trading partner. It ranks somewhere around 94th on the list. U.S.-Syrian trade totaled $500 million in 2002 — a pittance, although U.S. oil giant ExxonMobil Corp. has joint ventures with Syrian firms, and ConcoPhilips has gas operations there.

One Middle East expert says that the threat of economic pressure is unlikely to change hearts or minds.

"Syria, which has extensive trade ties with Europe, is set to become an EU partner in 2010," Murhaf Jouejati, adjunct professor at George Washington University and adjunct scholar at the Middle East Institute, testified to the National Commission on Terrorist Attacks Upon the United States on July 9.

Losing a Wal-Mart contract won't exactly paralyze the nation - not as long as the Germans and the French have money to spend.

Wal-Mart's Web site lists its supplier standards for ensuring that companies with which it does business comply with labor, compensation, health, safety and environmental laws. The company has a compliance office in Dubai, which one supposes would be responsible for checking up on Middle Eastern contractors and subcontractors.

Guess the Haddad company does OK when it comes to accessible restrooms and no forced labor.
Every weekday JewishWorldReview.com publishes what many in Washington and in the media consider "must reading." Sign up for the daily JWR update. It's free. Just click here.
JWR contributor Jill "J.R.'' Labbe is a senior editorial writer and columnist for the Fort Worth Star-Telegram. Comment by clicking here.
© 2003, Fort Worth Star-Telegram