Jewish World Review Jan. 13, 2004 / 19 Teves, 5764
How wide should our open doors be?
By Gary Rosenblatt


http://www.jewishworldreview.com | Is it blasphemy, or simple logic and self-preservation, to suggest that U.S. immigration laws should be tightened? Even to mention the topic makes some Jewish leaders nervous.

America, of course, is a nation of immigrants, the land of second chances. As a result, its beckoning shores have long held a special place of gratitude for American Jews. Our bubbes and zaydes came here to escape persecution from Europe and Russia and other lands, and it was here that they prospered in the melting pot of ethnic diversity, tolerance and democratic values. More recently, hundreds of thousands of Jews from the former Soviet Union were able to settle here and begin new lives without fear of religious discrimination.

So it is only natural that the American Jewish community has been outspoken in its support of immigration even as the numbers of Jews coming to this country has diminished.

But there are a few voices of late insisting that the tide has turned, that a complacent Jewish community, wedded to nostalgia and political correctness, is about to be overwhelmed by an influx of immigrants, many of them Muslim, with negative feelings about Jews and Israel. If Jews are to continue to thrive politically, socially and economically in this country, they must reconsider their position on immigration, these critics argue, and help lead a move to block, if not shut, the open door.

By the next census, Muslims may well outnumber Jews in the U.S., and according to Stephen Steinlight, former director of national affairs for the American Jewish Committee, an inevitable political shift will take place within the halls of Congress, putting increasing pressure on Israel in the Mideast conflict. "Our defense organizations have not responded," said Steinlight, now a fellow at the Center for Immigration Studies, "and when disaster comes, they will be asking themselves, 'where were we?' "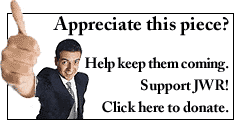 He points to Mideast policy and social changes in European countries like France and England, where Israel is viewed with increasing disfavor and anti-Semitism is on the rise, and he attributes the shift in part to the rapid growth of the Muslim and Arab populations. Jews are now outnumbered by about 10-to-1 by Arabs in those countries.

Ira Mehlman, media director of FAIR (Federation for American Immigrant Reform), agrees that "American Jews need to look out for their own self-interest," but noted that immigration is an American problem, not just a Jewish one. "This is not about right-left politics," he said, "it's about excessive numbers of immigrants coming here and placing a burden on our communities, our schools and our economy." He and others argue that aside from Jewish concerns, with up to 1.5 million immigrants, legal and illegal, arriving each year, America cannot properly absorb them; the current policy will lead to social and economic upheaval, in addition to jeopardizing national security, these observers say.

Mehlman cites a recent article in the New York Review of Books by Christopher Jencks, a professor of social policy at Harvard, who argues that the influx of cheap labor from Mexico and South America is creating a huge underclass that will lead to great turmoil in the U.S.

Steinlight and Mehlman have joined forces and gone on the road, speaking at synagogues and to Jewish groups around the country, preaching the dangers of unchecked immigration. They are finding much support, they say, from amcha, or heartland Jews. Even some leaders of national Jewish organizations admit privately there is a problem, according to Steinlight and Mehlman, though they have yet to address it openly.

Rabbi David Lincoln of the Park Avenue Synagogue is well aware of the benefits of U.S. immigration laws, having come to America 35 years ago from Great Britain. But he thinks it is time for Jews to re-visit their position on immigration. "Unlimited immigration is a danger to the Jewish community," he said. "But I'm more worried about the U.S. There is a worldwide struggle today against Islamic fascism and we have to be very careful about who we let in." He worries about "loyalty to the state," noting that Jews are taught to be loyal to the countries where they live while some Muslims seek government funding for their religious schools which "teach Islam comes first."

Rabbi Lincoln is not against immigration, he says, but "we need some checks." He has invited Steinlight and Mehlman to speak at his synagogue in the fall.

Rabbi Harlan Wechsler of Or Zarua, another Conservative congregation in Manhattan, sounds more hesitant than his colleague but he, too, is concerned about the potential dangers of open immigration. "As a rabbi I worry about things that lead to more anti-Semitism," he said, noting that there is much hate in the Muslim world directed at Jews. But he also observes that America has long succeeded in making democrats out of newcomers. "I don't want to feel that the openness of our society should be limited unless it has to be. I want to be optimistic without being foolish."

He has not spoken from the pulpit on the issue because of its delicate nature. "We have to go very slowly," he said.

Others, though, insist that opposing open immigration is never justified. "The melting pot still works," said Leon Wieseltier, literary editor of The New Republic. "Even in an age of ethnicity, Arab Americans will become Americans, and the idea that they are here to infiltrate us strikes me as paranoid and ugly. If there are particular problems, fix them. But for Jews to suggest limiting immigration or imposing quotas is historical hypocrisy of the worst kind."

Steinlight counters that while it is true the melting pot will eventually acculturate immigrants, "militant Islam is strong and on the march." He said it may take 30 to 50 years to create a more pluralistic form of Islam here, and the danger remains in the short-term.

Clearly, there are no easy answers to this issue, and just to raise it causes emotional ripples in the community. But it is too important to ignore, and should not be left to Pat Buchanan, whose racist views lead him to oppose immigration, as the only spokesman on the subject. An open discussion within our community on U.S. immigration policy may lead to new thinking and creative ways to deal with the moral imperative of keeping this country open to newcomers "yearning to breathe free" while protecting its inhabitants — legal and illegal — from those who would undermine all America stands for.
Every weekday JewishWorldReview.com publishes what many in Washington and in the media consider "must reading." Sign up for the daily JWR update. It's free. Just click here.
JWR contributor Gary Rosenblatt is Editor and Publisher of the New York Jewish Week. Comment by clicking here.
© 2004, Gary Rosenblatt