Jewish World Review Jan.14, 2004 / 20 Teves, 5764
The Moral Minority
By Evan Gahr
Conservatives who broke ranks now vindicated by Government probe of Islamic Society of North America
http://www.jewishworldreview.com | Paul Weyrich. Gary Bauer. Linda Chavez. Bill Donahue. Marc Gellman. Don Feder. Bailey Smith. Five Christians, two Jews. All nationally known. Weyrich is CEO of the Free Congress Foundation, helped found the Moral Majority; Bauer. a former Presidential candidate, Chavez, a former Reagan administration official, Gelllman the Jewish half of TV's "God Squad," Feder, a conservative commenator whose opposition to gay rights is so vociferous he makes Jerry Falwell sound like Liberace, Donahue is the feisty critic of anti-Catholic bias, and Bailey Smith, a former Southern Baptist convention president who made headlines years ago for an anti-Semitic remark that he has long since retracted.
They are the true defenders of Judeo-Christian values. Now in light of the astounding front page story in today's Washington Post, they are prophets with honor.
Bauer et al were the few religious conservatives who objected to the queer spectacle of their fellow religious conservatives determination to work alongside a reputed terrorist-friendly Islamic group in order to oppose gay marriage.
Gellman of "God Squad" fame bolted the coalition soon after JewishWorldReview.com disclosed the connection. The rest called the alliance a morally repugnant fools errand that could seriously damage the antigay marriage movement. (Click HERE to read the article.)
Unlike other religious conservatives who ignored or declined requests from JewishWorldReview.com for comment, Bauer, et al didn't hesitate to break ranks.
QUEER SMEARS FOR THE STRAIGHT JEW
What an honor: My personal history is central to the debate over gay marriage. Or at least that's what the Alliance for Marriage and the Orthodox Union seem to think.

Not long after Brooklyn's Jewish Press, the most popular independently owned Jewish weekly, followed up on my expose of the unholy alliance between ISNA and the AFM, one of its editors received a queer phone call from an OU staffer. He impugned my professional integrity and made other baseless assertions. The group's Executive Vice President, Rabbi Tzvi Hersh Weinreb ignored requests for comment. But OU president Harvey Blitz last night promised to look into the matter which he deemed problematic.

The OU at least was sensible enough not to slime me in writing. Not so the AFM.

Not long after the OU phone call, the Washington Blade, a homosexual DC weekly, contacted the AFM regarding my story.

The AFM response —

Subject: Evan Gahr Claims in Certain Jewish Press
Date: 12/22/2003 7:44:38 PM Eastern Standard Time
From: Paul E. Rondeau
To: Lou Chibbaro, Jr.
As you know, an individual named Evan Gahr has recently released a story on AFM . . .

Gahr has been been fired or in some way discharged from positions associated with at least three reputable organizations for his disreputable tactics. This is a matter of public record.

Who asked? Who cares?

Informed that the AFM had written a letter of recommendation for me to the Washington Blade, Paul Weyrich offered some oblique criticism. "The AFM must be a student of Lenin. He exhorted the faithful to always change the subject when you can't win an argument."

The Washington Post story most likely means the AFM is going to have a hard time changing the subject.

— Evan Gahr

Comment by clicking here.
Now, their courage is likely to be noted. The Washington Post reports that according to "documents and officials," the "Senate Finance Committee has asked the Internal Revenue Service to turn over confidential tax and financial records, including donor lists, on dozens of Muslim charities and foundations as part of a widening congressional investigation into alleged ties between tax-exempt organizations and terrorist groups."

Among the groups that the Washington Post cites is ISNA, erstwhile colleague of such illustrious clerics as Barry Freundel a.k.a. Lieberman's Rabbi because the Presidential candidate worships at his shul; Daniel Lapin, president of Toward Tradition, Richard John Neuhaus, editor of First Things, and Yoel Schoenfeld, a top official of the Orthodox Union, and Richard Mouw, a leading Evangelist who is president of the Fuller Theological Seminary.

The Washington Post quotes an unnamed Senate staffer saying "all the groups we're looking at are suspected of having some connections to terrorism or of doing propaganda for terrorists. We're not presuming anybody's guilty."

The Post story does not quote any ISNA officials. And efforts to reach the group, which has thus far ignored previous JWR inquiries, were not successful. However, last week Sayyid M. Syeed, secretary-general of ISNA and the AFM board member, ISNA representative to the AFM advisory board, told Stacy McCain of the Washington Times, the only mainstream print reporter who had the gumption to follow-up on JewishWorldReview.com's story, that "it's very unfortunate that some people might have been misled" about his group, insisting that "we have a record of credibility, trustworthiness, balance and moderation."

Moderation?

On page 250 of his book, Two Faces of Islam, Steve Schwartz writes that Muzammil Siddiqi of Islamic Society, told an anti-Israel "Jerusalem Day" rally on October 28, 2000 that "America has to learn . . . if you remain on the side of injustice, the wrath of G-d will come. Please, all Americans. Do you remember that? If you continue doing injustice, and tolerate injustice, the wrath of G-d will come."

Confronted with this statement and ISNA's indulgence of anti-Semitic and anti-Israel rhetoric far more vile than the stuff which got Louis Farrakhan banished from polite society, the group's fellow travelers on the AFM advisory board had a panoply of excuses why they could in good conscience continue to work with ISNA.

When JewishWorldReview.com disclosed that the AFM advisory board included a different problematic Muslim group, the American Muslim Council, Neuhaus, shrugged off the connection as the nature of alliances. Lapin likened his alliance with the AMC to the United States alliance with the Soviet Union during World War II; the United States, he explained, did not endorse the contemptible policies of the Soviet Union when the two countries worked together to fight Hitler.

These days, Lapin won't comment. Ditto for Neuhaus. Other ISNA fellow travelers simply regurgitate the official word from the AFM. The Washington Times quotes a letter from an AFM lawyer boasting that "'ISNA has not been listed or identified as a terrorist group'" by any federal department or agency.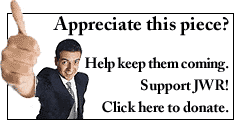 In other words, ISNA is kosher because it's not on the government's list of bad guys.
Indeed, when Freundel, a vice-president of the Rabbinical Council of America, according to his shul website, decided to remain on the AFM advisory board, RCA president Kenneth Auman told the Forward that "If the government takes this Muslim organization seriously, we'll also take them seriously."
Does Freundel answer to the government or G-d?
Or anyone? Contacted last night, Freundel refused to say if he would remain on the AFM advisory board. Likewise his colleague Auman said, "I don't know. We'll deal with it."
Yoel Schoenfeld could not be reached for comment. But Orthodox Union president Harvey Blitz took the matter seriously. Would the OU demand that Schoenfeld and Freundel resign from the AFM advisory board. "We don't normally tell employees what to do. But I'll read the article and talk to you tomorrow." Take him at his word. Blitz also had enough integrity to say he had a "problem" with the OU's recent call to the Jewish Press maligning this reporter after the Brooklyn newspaper picked up his stories.
Lapin could not be reached for comment as the story was edited late last night and early this morning. But he said via email this afternoon that, "Our government identifying a group as 'terrorist related' makes all the difference in the world."
Under which Jewish tradition? Jews recognize the tremendous power of words. Regardless of how the government classifies ISNA, the AFM's poster boy for tolerance and diversity has indulged anti-Semitic, anti-Israel and anti-Israel statements far more vile than the stuff which got Louis Farrakhan banished from polite society.
In any event the new government identification didn't seem to make much difference to Richard Mouw, president of the Fuller Theological Seminary, who previously hung up when asked about the ISNA connection. Asked if he would now resign from the AFM advisory board, Mouw explained with scholarly nuance, "I'm not talking to you, Evan. [click]."
Ditto for ISNA's other fellow travelers.
Every weekday JewishWorldReview.com publishes what many in Washington and in the media consider "must reading." Sign up for the daily JWR update. It's free. Just click here.
Evan Gahr, a journalist based in the Washington, DC, area, previously broke major stories on Congress, Hillary Clinton and Paul Weyrich. Comment by clicking here.
© 2003, Evan Gahr